THIS® Chrome Paint is specially formulated to create an impressively smooth and lustrous professional acid-free finish that strongly resembles metal plating. It is recommended for wood, plastic, ceramic, paper, plaster, glass, metal, wicker and just about any other type of surface. 
Highest quality metallic finish:

Ideal for creating a shiny metallic finish on any interior metal, wood, glass, plastic and etc.

Strong coverage and adhesion: Paint features excellent chip resistance and color retention will keep your projects looking good over time.
Elegant and smooth finish: Formula contains actual metal flakes in the paint to create an ultra bright and shiny metal look.
Anti-aging and anti-corrosion: Fast drying, form a protective layer will not contact with oxygen.
Environmental protection and pollution-free: Updated formula, non-toxic, harmless to skin and environment.
THIS® Chrome Paint Details
Package: 300ml/can, 12 cans/carton
Color: Silver Chrome Color
Nozzle Shape: Fan-shaped, string-shaped
Main Ingredient: Resins, Pigments and fillers, Solvents, Additives, Propellants
Spray rate: ≥99%
Pressure inside: 0.3-0.5 Mpa(25)
Drying time: Tack free: ≤10min
Hard dry: ≤60min
Hardness: ≥HB
Adhesion: ≤Grade 2
Flexibility: Grade 2
Shelf Time: 3 years
Excellent coverage and adhesion
Easy and quick spray and minimize loss;
Fast drying (surface dry time: 10minutes)
Excellent protection against rust, impact, UV etc;
Glossy or matte finish.
Super environmental protection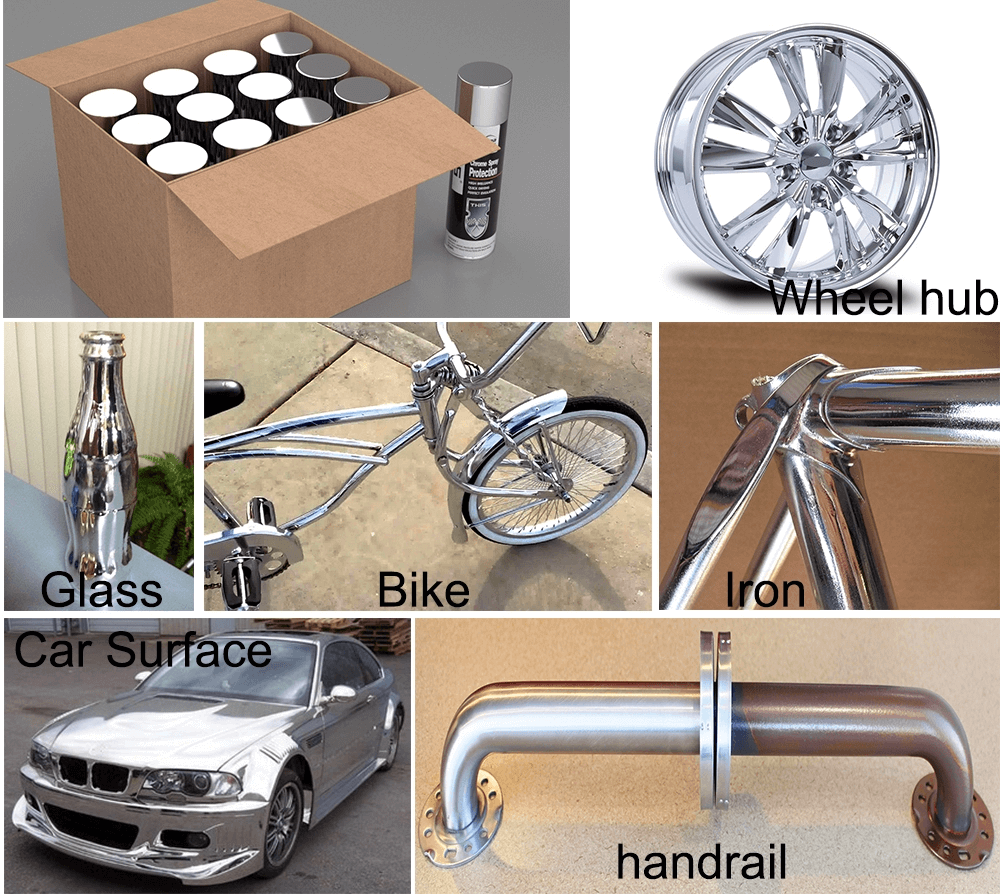 Clean surface thoroughly, removing all dirt, grease, oil, wax, dust, moisture etc. Cover adjacent areas to protect from spray mist. Use at room temperature up 70°F.
Shake can vigorously for about 30 seconds before spraying.
On previously painted surface test spray in a small inconspicuous area.
Hold the can 15-25cm from the surface to be sprayed.
Press spray button firmly with steady even strokes while moving can rapidly back and forth.
2 to 3 films with 20-30µm thick are better. Intermittence of 10 minutes between each film is recommended.
After use, turn can upside down and depress valve button for several seconds to clear valve until only gas emerges so as to prevent clogging
Keep away from children.
In case of contact with eyes, please flush with a great of water and go to the hospital immediately
Store in a cool and dry place, and avoid direct sunlight.
Keep away from flame, spark and another kind of ignition.
More Information

| | |
| --- | --- |
| CAS No. | Unknown |
| Other Names | Chrome spray paint |
| MF | Mixture |
| EINECS No. | Unknown |
| Place of Origin | Guangdong, China |
| Main Raw Material | Acrylic |
| Usage | Appliance Paint, Boat Paint, Building Coating, Car Paint, Electrical Insulating Varnish, Furniture Paint, Paper Coating, Plastic Coating, Road Marking Paint, Rubber Coating, metal painting |
| Application Method | Spray |
| State | Liquid Coating |
| Brand Name | THIS |
| Model Number | C1-14 |
| Lead time | 15days |
| Qty/CTN | 12pcs |
| G.W. | 5.0kg |
| N.W. | 4.5kg |
| Content | 300ml |
| Dry Time | Around 25 minutes |
| certificate | MSDS |
| material | non-toxic |
| can | tinplate |
| Spray Rate | 98% |
1.IS THIS GOOD FOR PLASTIC?
Yes. It also can apply on wood, metal, plastic, rubber materials and etc.
2.CAN THIS BE USED TO PAINT GLASS?
Yes, you can use a paint designed for glass.
3.CAN THIS BE USED IN GRAFFITI?
Absolutely, yes.
4.IS THIS RAIN AND CAR WASH RESISTANT?
Yes.
5.WILL THIS COVER RUST?
Yes, it can paint for metal with rust and have been successful.
6.CAN I USE THIS TO PAINT MY REFRIGERATOR?
Yes, make sure you thoroughly clean and scuff up the surface to be painted to ensure good paint adhesion.
7.WILL THEY SHINE ON METALS?
Yes, very shiny.
8.CAN I USE THIS ON ARTS AND CRAFTS FOAM?
Yes, you can.