Engine Degreaser Spray – 650ml
Capacity: 650 ml
Item Number: C1-23
QTY/CTN: 24 PCS
Color: Colourless
State: Liquid Spray
Application: Car Engine Surface
Size: D 62 H 275 mm (D: diameter, H: height)
THIS® Engine Degreaser is specifically formulated to remove tough grease and oil build-up on engines. This self-emulsifying formula penetrates deep into grease and oil to release it from the surface of your engine.
Quickly and easily removes the toughest grease, dirt and grime
Heavy duty cleaning formula packed with powerful degreasing solvents
Requires no tools or special equipment
Inexpensive way to clean equipment
Heavy-duty degreaser removes engine deposits
Clings to surfaces, Penetrates grease and oil
Eliminates baked-on grime and deposits
Fast acting, No scrubbing required
Engine must be off and cool.
Care must be taken with all underhood wiring and electronic sensors or components. Cover any open carburettor or intake system opens. Cover exposed electrical and electronic components (uncovered cracked, frayed wires or engine computer units can short circuit).
Shake well and apply generously to dry engine.
Wipe with a wet cloth after 5 minutes.
Keep out of reach of children.
Never spray at eyes or face.
Do not puncture or incinerate container.
Do not expose to heat, sparks, open flame, or store at temperatures above 50°C. / 122 F
Do not expose the container to electrical connections or battery terminals as it may cause the container to rupture and result in serious injury.
More Information

| | |
| --- | --- |
| Place of Origin | Guangdong, China |
| Brand Name | THIS |
| Model Number | C1-23 |
| Function | Deeply Cleaning |
| Content | 650ml Engine Degreaser |
| Qty/CTN | 24pcs Engine Cleaner |
| Carton Size | 412*276*266mm Degreaser Cleaner |
| Application | Car,Boat,Machines and etc. |
| General Use | Spray on and rinse off with water |
| Features | Effectively dissolves grease and grime in minutes |
| Characteristic | Eco-friendly |
| G.W/CTN | 14.54kg |
| N.W/CTN | 13.97kg |
Best-seller Engine Degrease

Convenient & Quick
Dissolve Oil sludge
Enhance Heat Dissipation
Emulsification & Permeation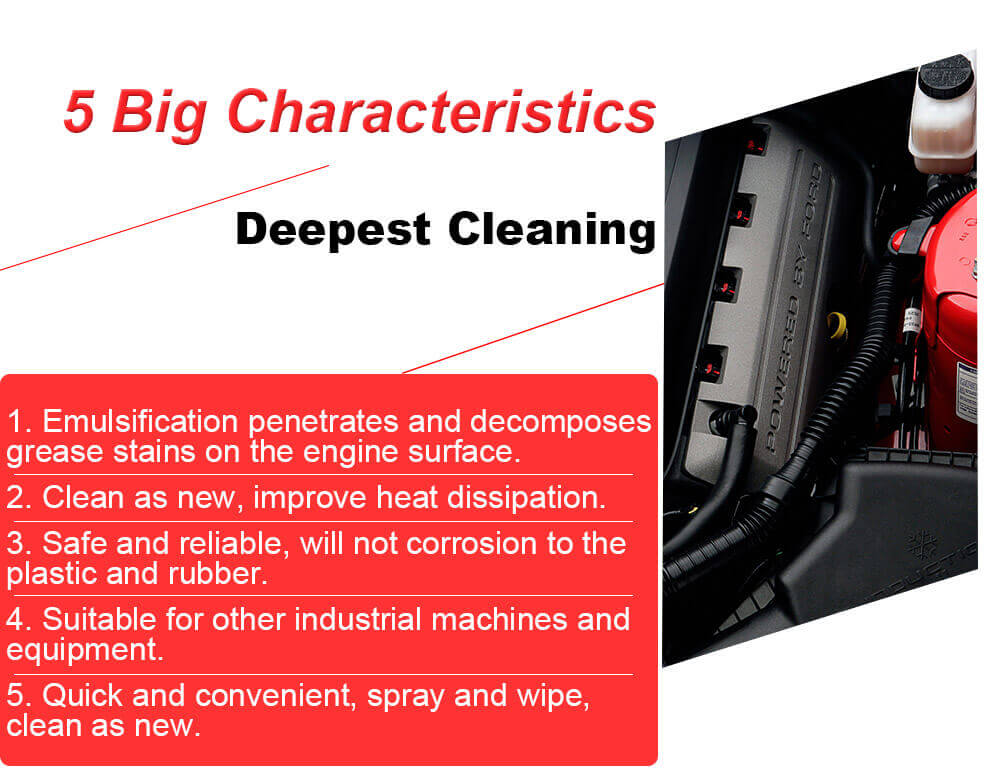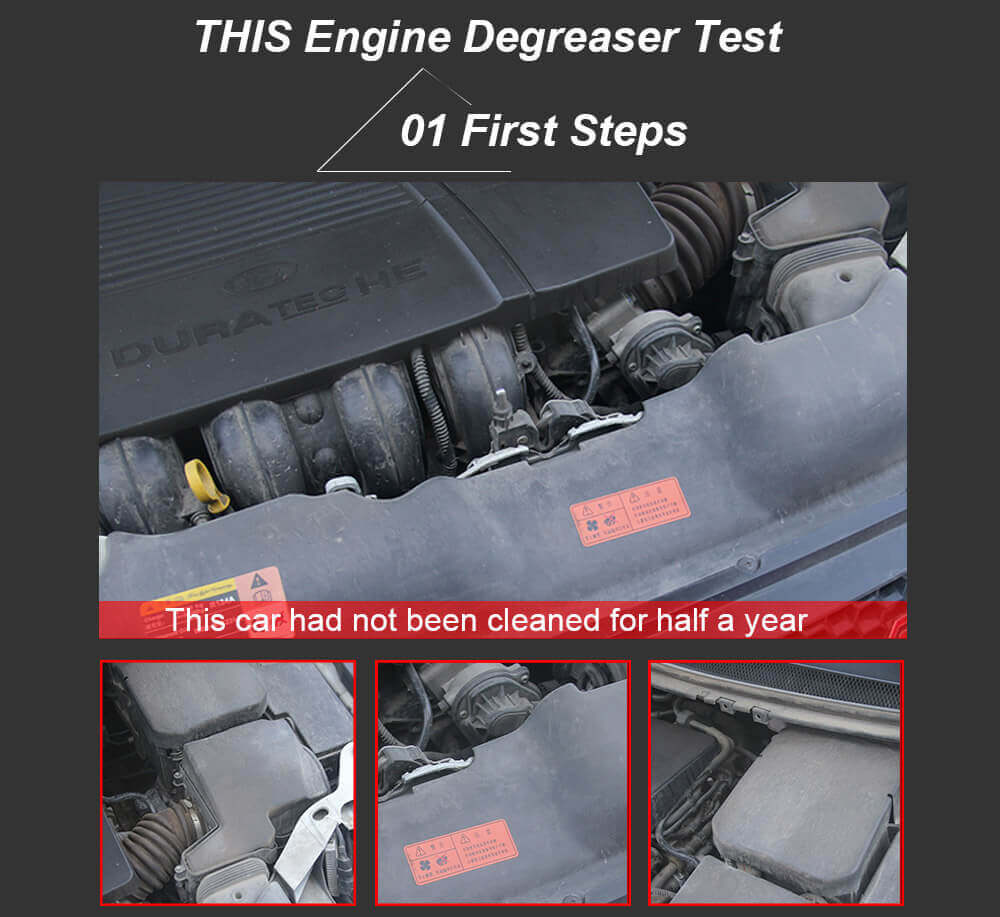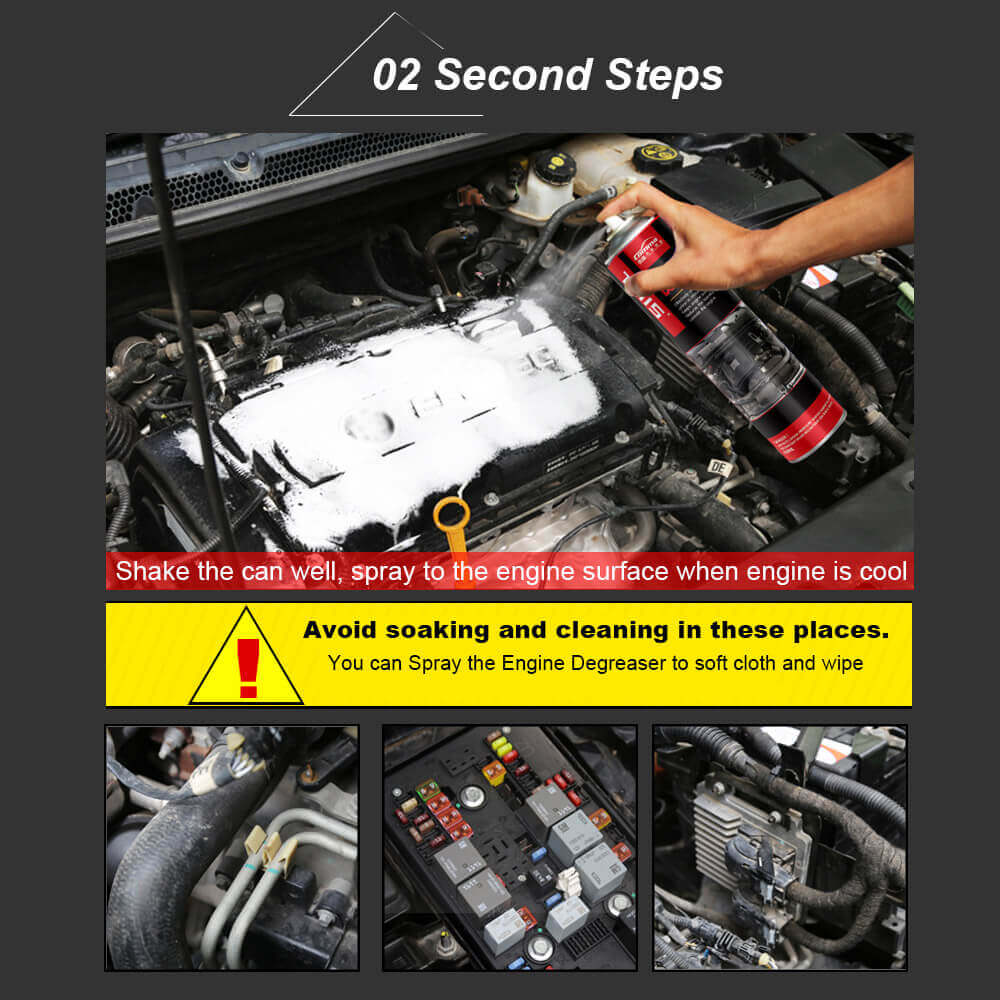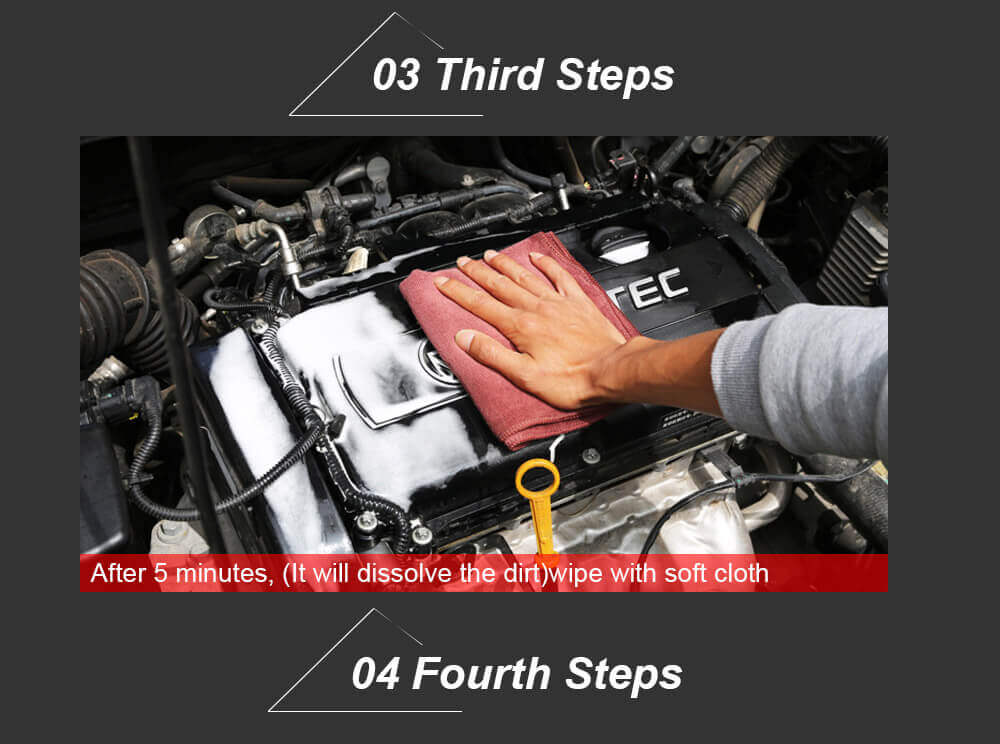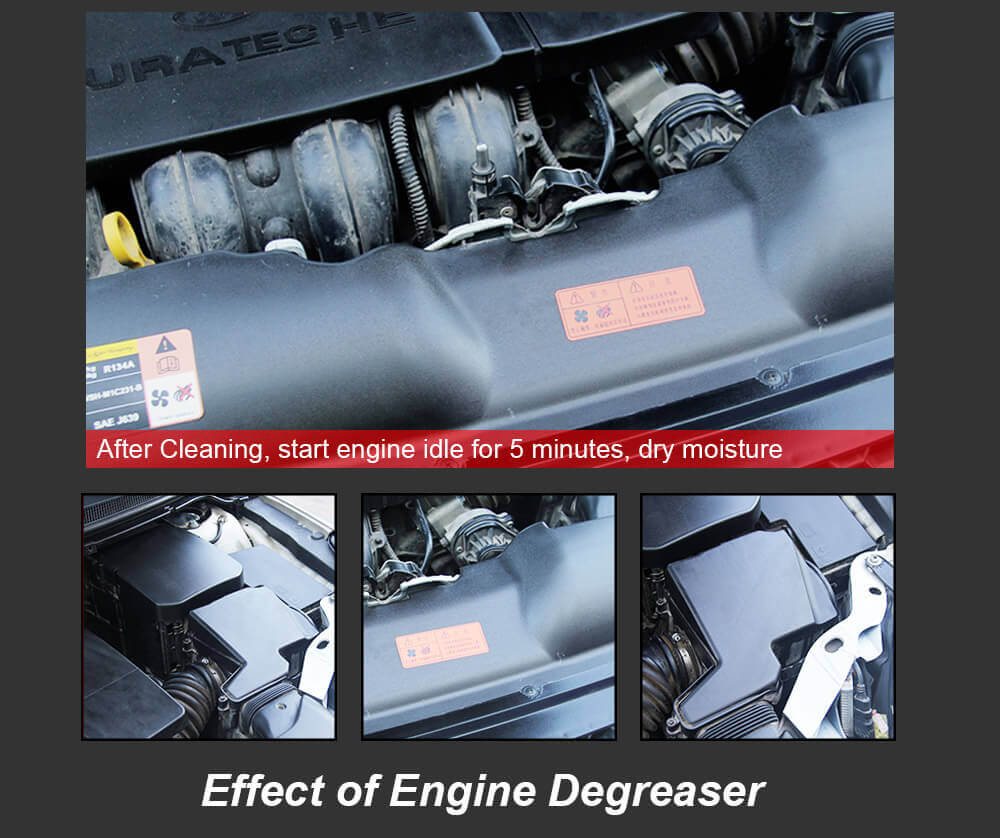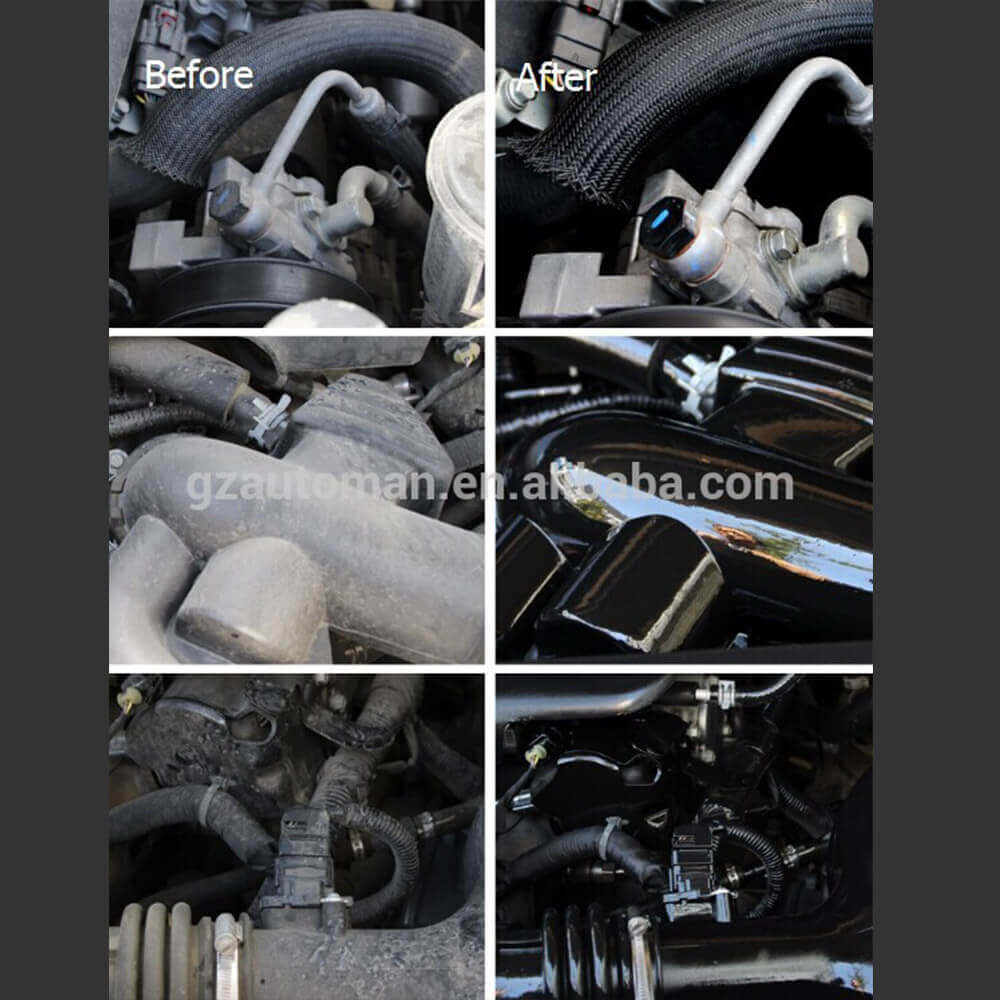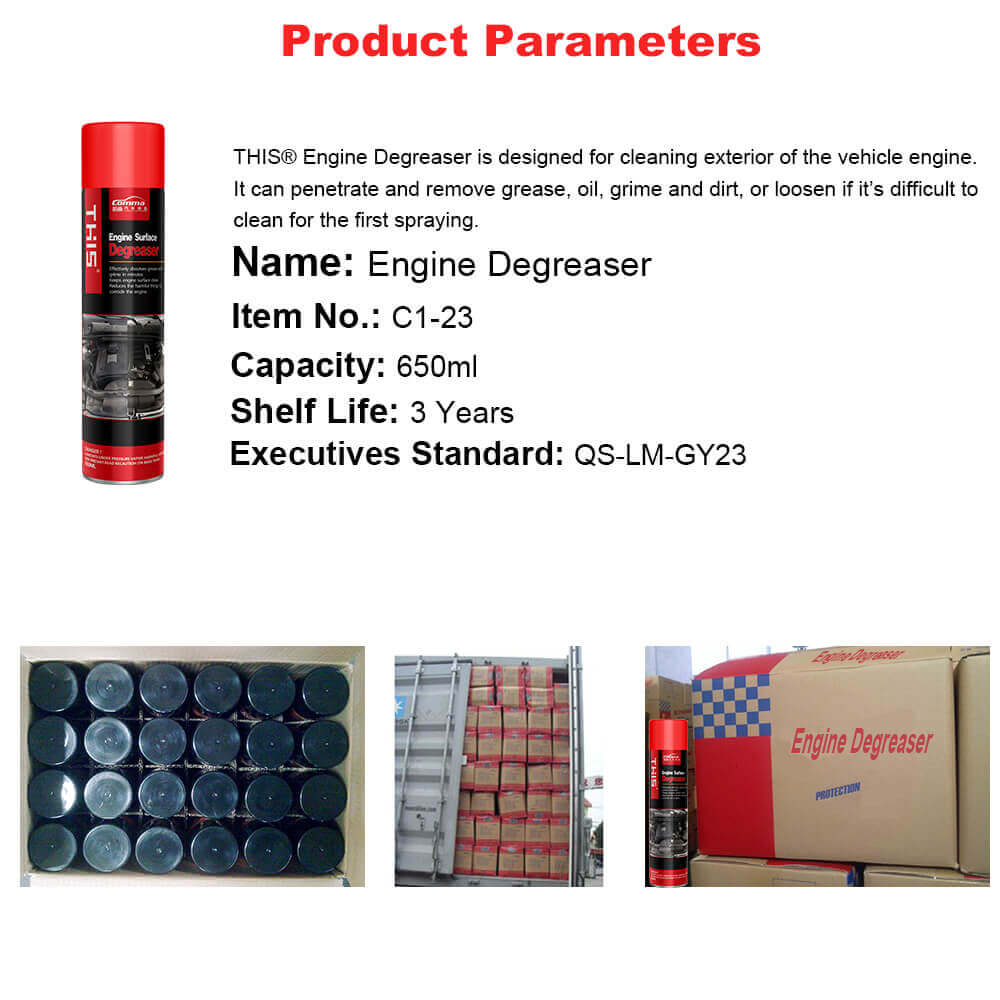 1.Will it corrode or damage the electric circuit?
THIS Engine Degreaser also can protect the electric circuit, will not corrode the rubber and plastic.
2.Can I rinse with water after spraying?
For the best result, you can wipe with cloth or rinse with water(Do not use high-pressure water jet), and then dry with air gun or hair dryer.
3.How often clean the engine?
Regular cleaning over 50 thousand km, avoid dust, oil accumulation, corrosion of electric circuit, damage to the line, aging, and cause spontaneous combustion.
4.Will this product have a strong pungent smell?
This product is gentle formula without any pungent smell.
5.What is the lowest outdoor temperature can the product be applied in?
We recommend temperatures that are above freezing. Ideally, we suggest above 55 degrees.