Which spray paint is best for metal?
The spray paint we are talking about is an aerosol product. Usually, the net weight is 450ml. It is useful to paint or repair a small area for quick, even on objects that have irregular surfaces, which is not easy for traditional paintbrushes.
However, people found not all spray paints adhere well to the metal, ends with a spotty final finish, or chips and cracks shortly down the line.
How do we find out what we need?
We can find out that Comma provides different solutions for their spray paints. As on the listed features below. I believe they are a good guide to find out which one is best for the metal surface you are going to use it on.
It's simple.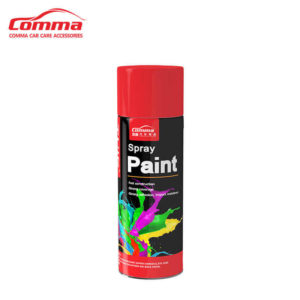 Portable
A 450ml bottle is easy to carry anywhere even in the bag of aerial works.
Rust-resistant
The oil-based spray paint comes with inherent rust-resistant properties.
Shiny finish
Due to the inclusion of lustrous metallic flakes which can be formulated in the metallic paints
Interior/exterior
Designed for interior and exterior use, applying it well in almost every circumstance.
Durable
Different spray paints come with different levels of durability. Some are only meant for indoor use. Other variants are labeled as "indoor/outdoor".
Fast drying
Could expect the spray paint to take 24 hours to dry. But some are truly fast-drying, usually in as little as 20 minutes.
Water, scratch, UV light-resistant
Cost/Price
Use the aerosol spray paint without expensive equipment and the heavy tank.
Comma is a China supplier for car care products and spray paints, with more than 10 years of experiences, R&D team to serve global clients. We are glad to answer your questions and help your business in your country.