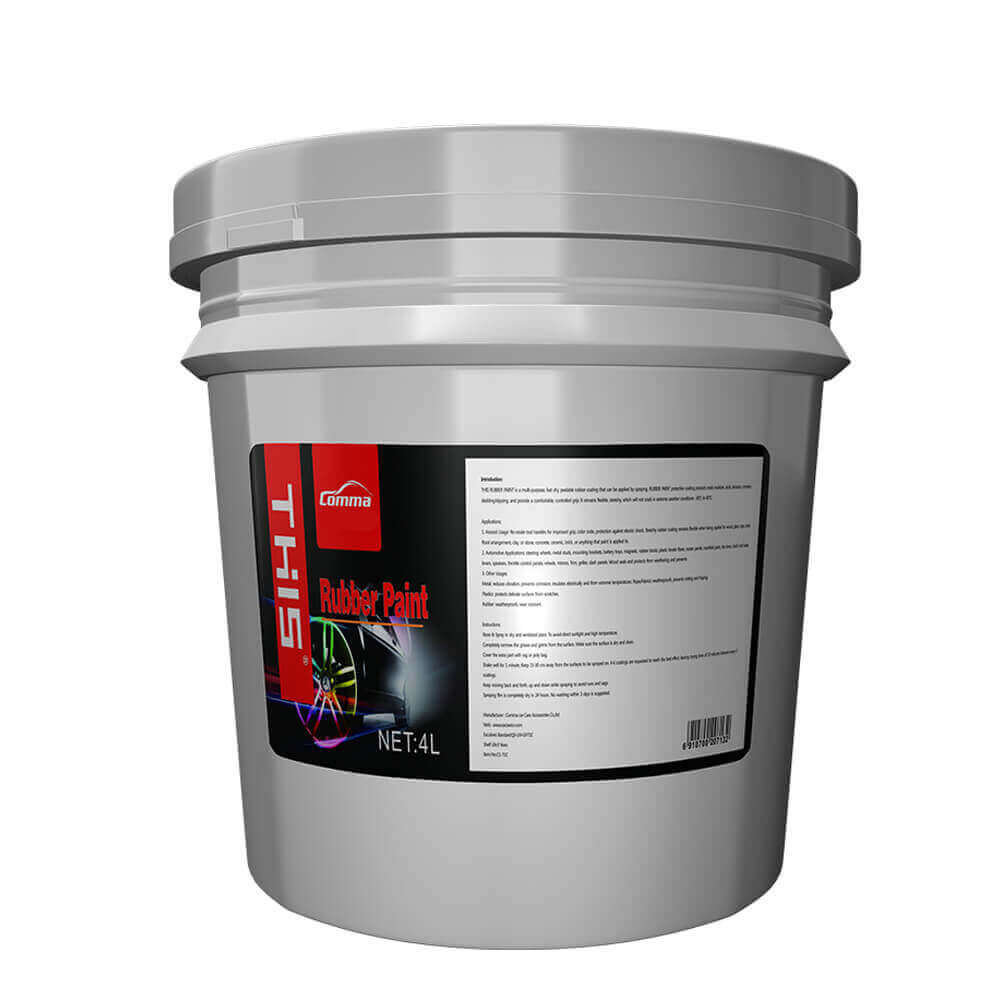 Color
Black, White, Red, Blue, Green, Transparent color
Application
Wood, Metal, Plastic, Rubber Materials and etc.
Bottle Size
Bottle Height: 86 mm  Bottom Diameter: 200 mm  Top Diameter:160 mm
Why buy this product?
THIS® Rubber Paint can protect coated items against moisture, acids and corrosion, and provides a non-slip, comfortable and controlled grip, remains flexible, stretchy and will not crack or become brittle in extreme weather conditions. 
Features
Natural dry rubber coating agent, by spraying change car color
Antifouling, waterproof, wear resistance and corrosion resistance
Easy construction, good texture and strong flexibility
Can be peeled off anytime if no longer needed
Super environmental protection
Application
The Surface must be clean and dry.
To protect surrounding areas from overspray, tape off with painter's tape and newspaper.
Shake the can vigorously for one minute before use. Holding the can 30 cm from the prepared surface, begin by applying one light mist coat, spraying in a continuous motion across the surface working left to right.
Then pause, allowing the mist coat to set for 30 to 60 seconds, then apply additional coats working at 90° to the first coat.
If a thicker finish is required, allow at least one hour between extra coats. When painting over existing paint always check compatibility.
Attention
Keep away from children.
In case of contact with eyes, please flush with a great of water and go to the hospital immediately
Store in a cool and dry place, and avoid direct sunlight.
Keep away from flame, spark, and another kind of ignition.
Q&A
1. Are you a manufacturer?
A: Yes, We Comma Car Care Accessories Co., Ltd is a professional manufacturer, we have been committed to car care products research and development around 10 years.
2. What kinds of car care products do you have?
A: Our products divide into Rubber Spray, Spray Paint, Car Wax, Cooling System Care, Fuel Additives, Car Polish, Air Freshener and etc.
3. What are your terms of delivery?
A: EXW, FOB, CNF, CIF.
4.How about your delivery time?
A: Generally, it will take 25 to 30 days after receiving your advance payment.
5. Can you provide the sample?
A: Yes, we can provide 2-3 free samples, Comma spend on samples is 1 million RMB per year.