THIS® Waterproof Spray that is designed to keep fabric, cloth, shoe, leather surface dry longer. New crystal clear formula allows the surface to breathe while keeping surface dry with maximizes breathability. Great for work boots, tennis shoes, dress and casual shoes.
Help restores lost water and stain repellency
Increase water and oil based stain resistance
Keeping fabrics dry and maintaining colorfastness
Ideal for upholstery, fabric, shoes, clothes, boots, leather and etc
Clean and dry fabrics by adding a powerful protective unscented coating
THIS® Waterproof Spray is a excellent waterproofing product, stain proofing and oil proofing effect. It can restores water repellency without affecting breathability.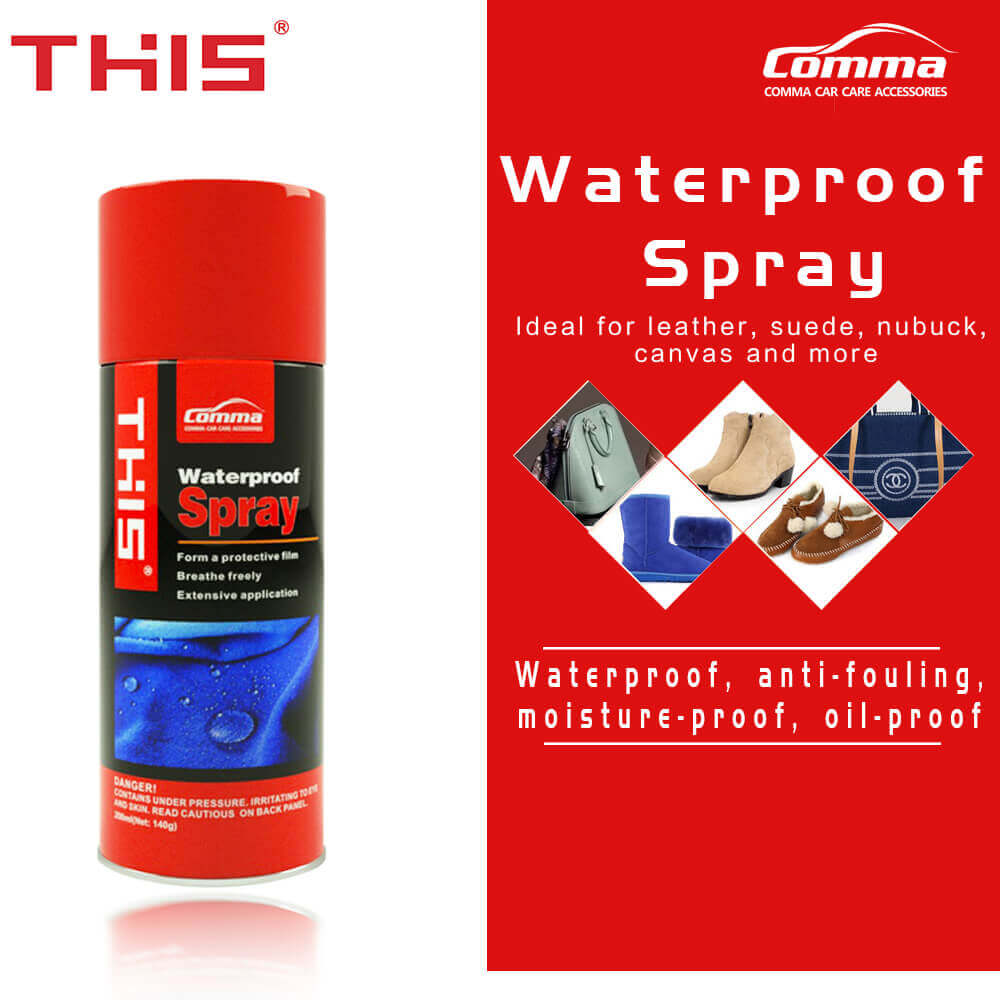 More Information

| | |
| --- | --- |
| Brand Name | THIS |
| Model Number | C1-46 |
| Weight | 200ml |
| Use | Waterproof Spray |
| Expiration Date | 3 years |
| Application | Shoes, Cloth, Fabric, Leather, etc |
| State | Liquid Spray |
| Feature | Repels and protects from damage caused by water |
| Characteristic | Protector |
| Packing | 12pcs/ctn |
| G.W/CTN | 2.20KG |
| N.W/CTN | 2.00KG |
| Property | Super hydrophobic coating |
Suitable for clothes, textiles, footwear, bags, leather materials, paper and etc.
KEEP OUT OF REACH OF CHILDREN!
Contains under pressure! Store at room temperature. Do not puncture, incinerate or expose to heat above 55℃.
Harmful or fatal if swallowed. If swallowed, may be aspirated. May cause eye irritation. Avoid eye contact.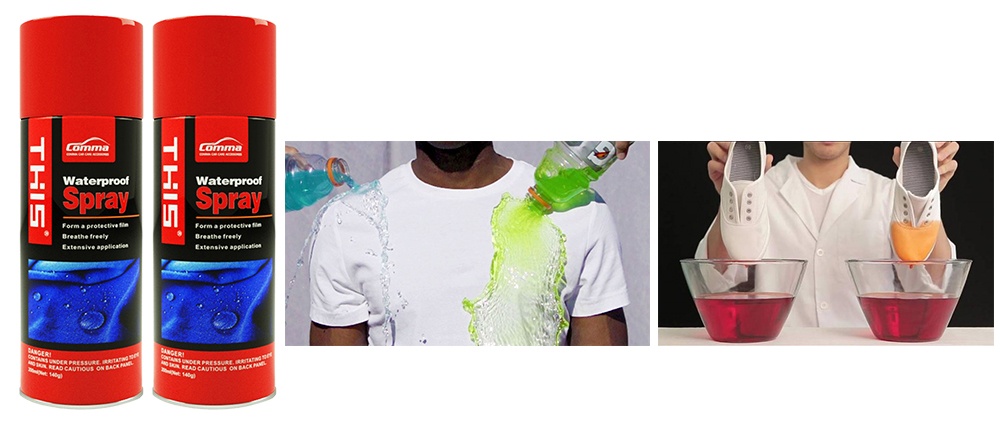 1.HOW LONG DOES AN APPLICATION LAST?
It will last for months. But if you rub it just once, it destroys the protection.
2.IS SAFE FOR SHOE, FABRIC, CLOTH, BOOTS SURFACE?
Yes, THIS Waterproof Spray is safety formula, it is suitable for most surfaces.
3.CAN I USE ON LEATHER JACKET?
Yes, it should be. Always test first on a small, inconspicuous area.
4.DOES THE SHOES STILL BREATH?
Yes, of course, the shoes still breath. All the shoes are all still in good shape in a few months.
5.WHAT COLORS IS IT USED FOR?
Any colors.
6.IS IT STICKY?
No, once its dry the surface just feels normal, no residue at all.
7.DOES IT DRY CLEAR?
Totally clear.