THIS® Carnauba Hard Wax superior cleaning, shine, and protection of all finishes. Carnauba hard wax provides a durable finish which helps prevent pollutants from damaging the car's surface. Provides a resilient barrier which helps protect against harmful UV rays that can dull a car's finish. 
SUPERIOR QUALITY CARNAUBA WAX – Specially formulated to be easy to apply and wipe off leaving water beading protection that lasts up to 12 months. 
HIGH-GLOSS FINISH – Specially designed for use on auto paint bring out the true color of your car's paint. 
EASY TO USE – Easy to wipe off using a microfiber or terrycloth towel. Experience a professional shine without having to pay premium! 
LONG LASTING SHINE & PROTECTION – Lasting, water-beading protection that helps prevent water stains or oxidation from corroding your auto paint finish.
Shine and maintain
Protect against UVA/UVB rays
Long-lasting protection against weather, salt and corrosion
Car body paint protection
Excellent water repellant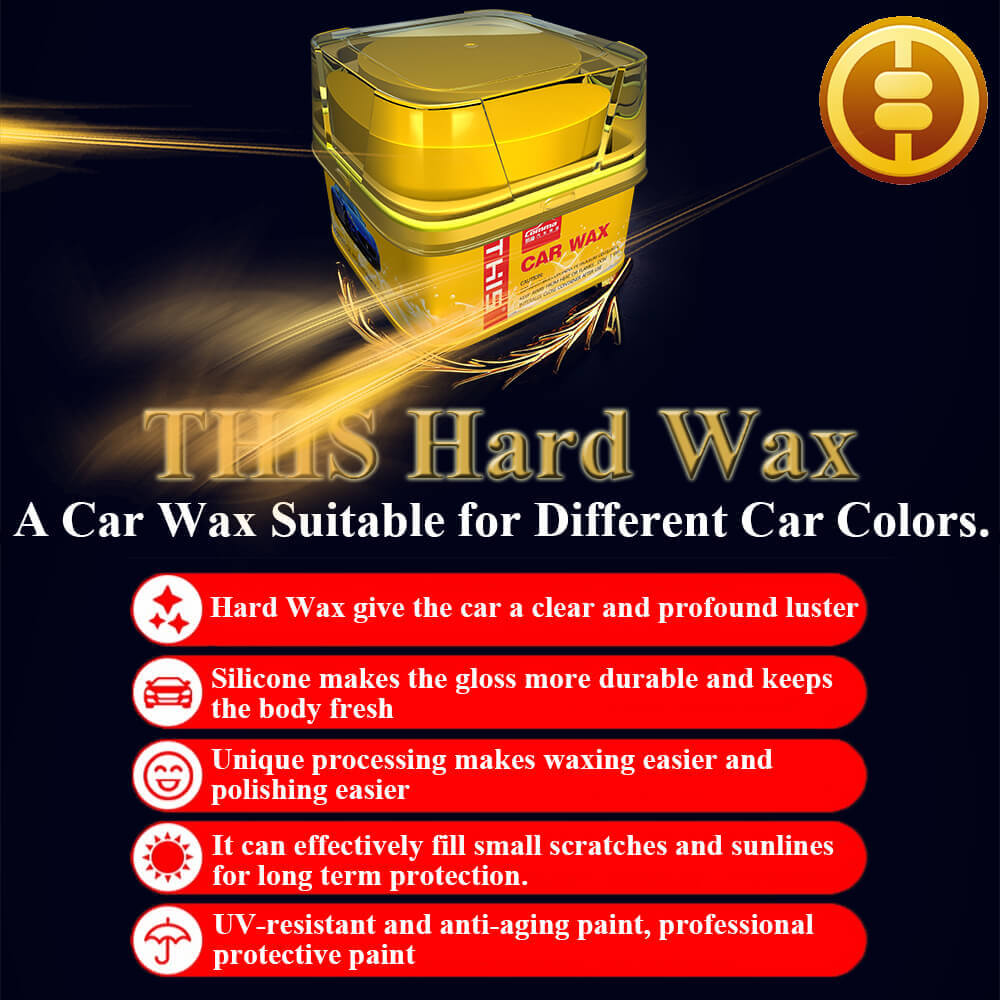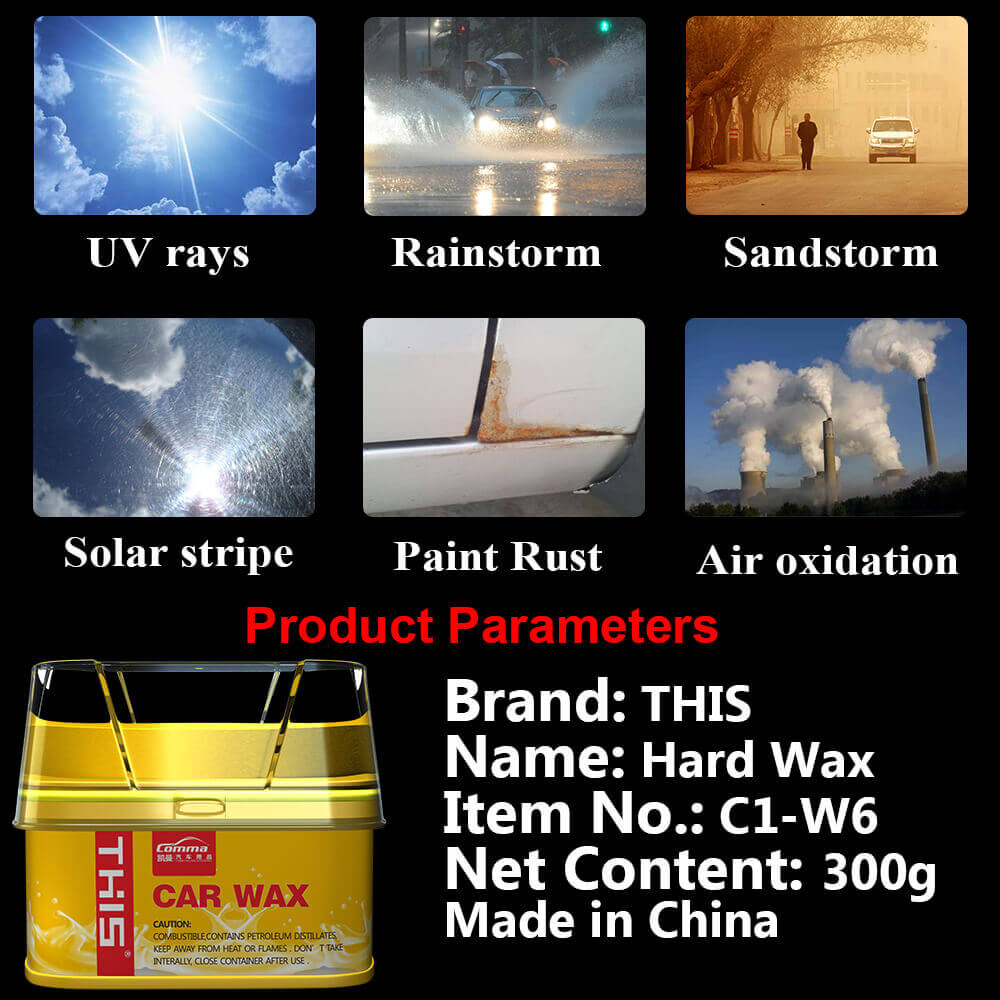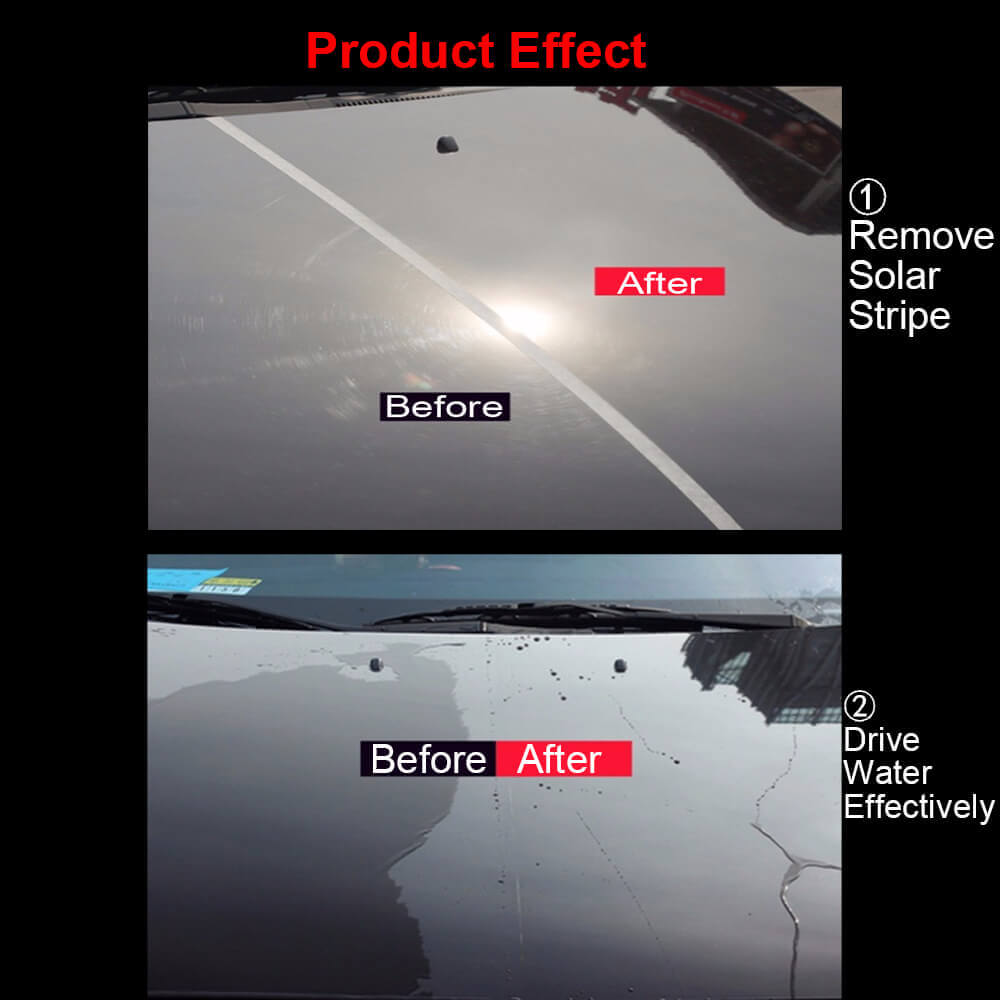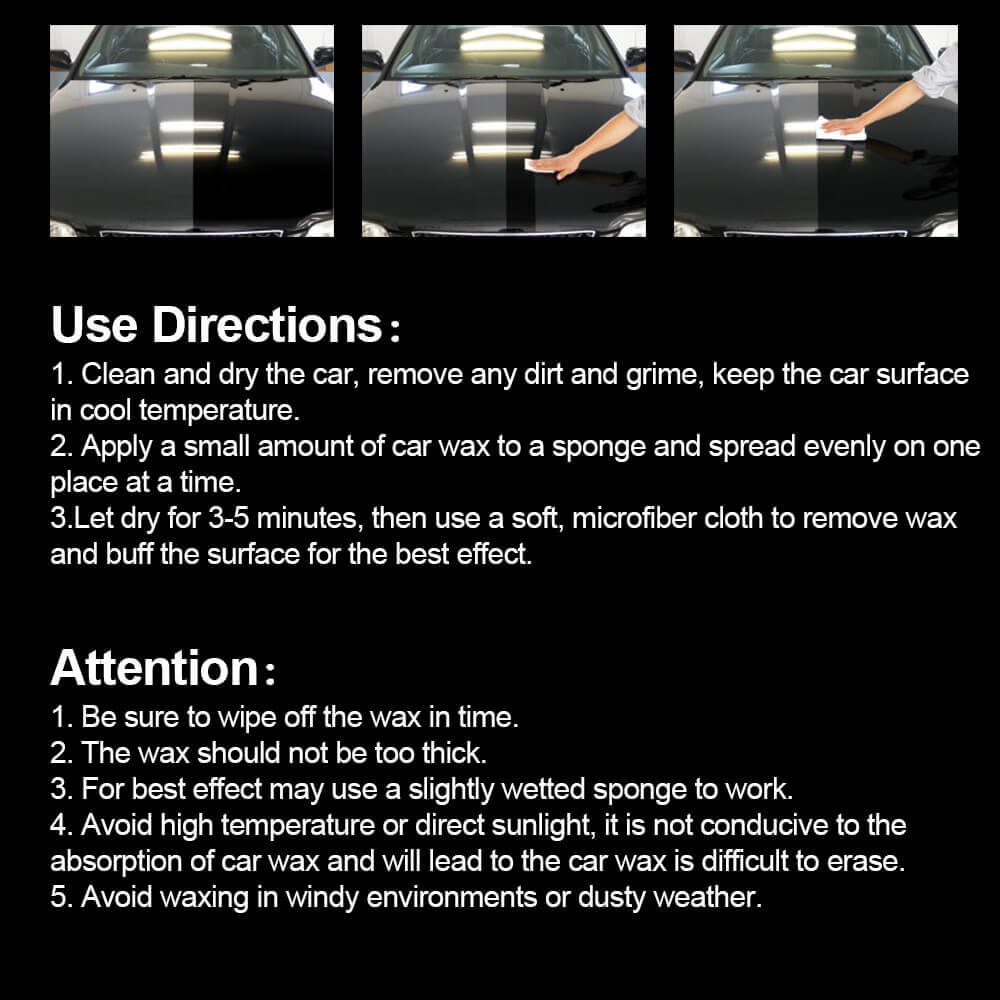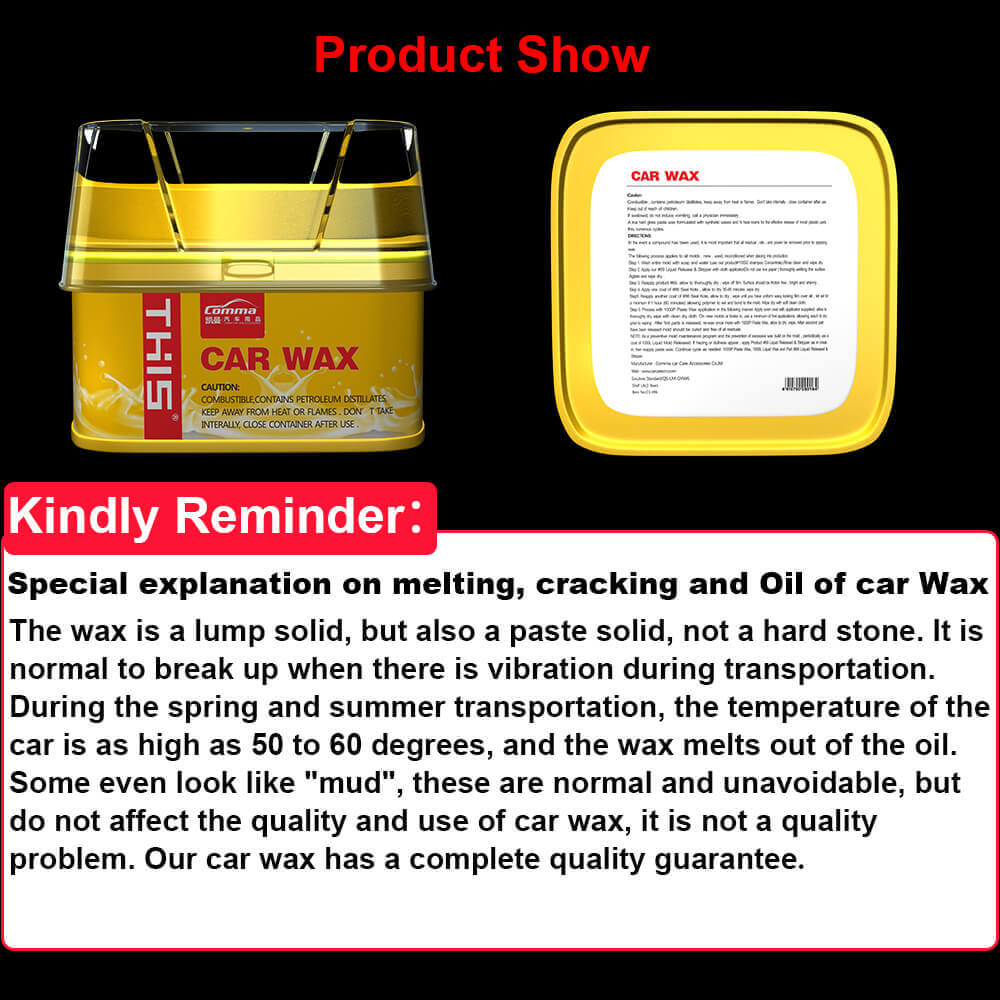 Wash and dry vehicle
Moisten applicator sponge and apply evenly with a circular motion, one section at a time.(two or more thin coats give better results than one heavy coat)
Allow 3-4 minutes to dry to a haze and wipe off with a clean and soft fiber cloth, turning frequently.
For best results, be sure the surface is cool to touch and do not apply in direct sunlight.FOR BEST RESULTS: Avoiding direct sunlight. The car surface should be cool. Use on vinyl tops, metalized plastic trim, decals, flat black paint, simulated wood panels, cracked or crazed paint finishes are not recommended. Formula restores and protects cars, motorcycles, R.V. s, and more.
Keep out of reach of children.
In case of contact with eyes, flush with plenty of water.
If swallowed do not induce vomiting, call a physician immediately.
Protect from sunlight and store at temperature below 45℃
More Information

Brand Name
THIS
Model Number
C1-W6
Weight
230g
Use
car polish
Expiration Date
3 years
G.W/CTN
4.0kg
N.W/CTN
3.7kg
State
Solid Wax
Capacity
200g
Qty/CTN
12pcs
Color
Yellow
Carton Size
25.5*25.5*20cm
Application
Clean and polish the surface of car body

1.DO YOU NEED TO DO THIS AT A CERTAIN AIR TEMPERATURE IF YOU ARE WAXING OUTDOORS?
We suggest to Wax above freezing temperatures.

 

2.WHAT ARE THE TEMPERATURE LIMITS FOR THE PRODUCT?
Ideally, between 55-85 degrees F., You want to be sure that you are staying above freezing.

 

3.DOES IT PROTECT FROM RUST AND WITH WHAT FREQUENCY DO I NEED TO USE TO PROTECT MY BIKE FROM RUST. OR IS THERE ANY OTHER PRODUCT TO USE TO MAKE MY BIKE SHINE AND PROTECTED FROM RUST?
This product will protect your bike for 3-6 months!

 

4.IS THIS Hard WAX SAFE TO USE ON CLEAR COAT?
Yes! All of our Waxes are safe and help protect your clear coat.

 

5.IF I USE THIS ON MY WHITE TUB WILL IT EVENTUALLY TURN YELLOW?
We do not suggest using your white tub- this product can become embedded in the fibreglass of the tub and can be very difficult to remove.

 

6.IS THIS CARNAUBA?
Yes! THIS Hard Wax is made of carnauba wax.

 

7.ABOUT HOW MANY CARS WILL A 14 OZ CAN WAX?
It really depends on how much product is applied and what size the cars are. There is enough product to last you a long time.