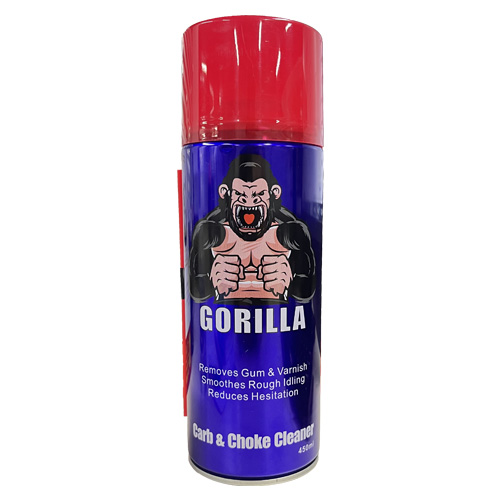 GORILLA Carb Choke Cleaner – 450ml
Capacity: 450 ml
Item Number: C1-06
QTY/CTN: 24 PCS
Color: Colourless
State: Liquid Spray
Application: Carburettor, Choke, Metals
Size: D 62 H 197 mm (D: diameter, H: height)
GORILLA® Carb & Choke Cleaner Features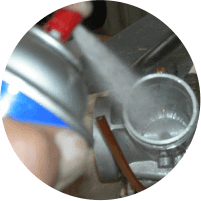 Dries quickly and leaves no residue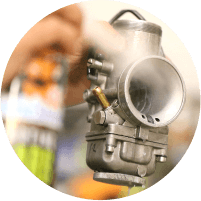 Powerful blend of low VOC solvents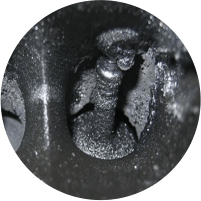 Quickly removes varnish, gum and carbon deposits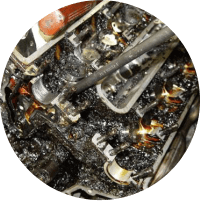 Removes sludge from carburetor and combustion chamber
application fields of carburetor cleaners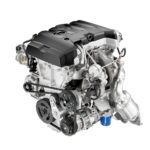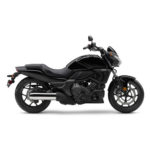 motorcycle carburetor cleaner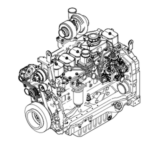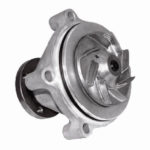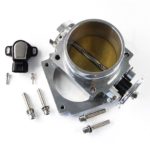 Carb Choke Cleaner
GORILLA® Carb Choke Cleaner has an excellent penetration of the solubility can penetrate into the complex precision of the internal equipment, thoroughly clean the grease, dirt and oil on the metal parts surface.
Carburetor Cleancer Application
Take off the air filter on carburetor, start the engine, keep idling.
Shake well GORILLA® Carb Choke Cleaner and install the red pipe into blow head.
Spray (1/3) into float chamber of carburetor from balance hole, this part will flow to clean orifice and oil-way.
Spray(1/3) into carburetor choke and in wall.
Spray the rest into the external carburetor to clean the clay colloid.
Clean after 5-6km or special maintenance.
Helps overcome hard starting, rough idling, stalling, and high exhaust emissions
Quickly removes deposits from the inside and outside of the carburetor to improve engine performance and fuel economy
Cleans gum, varnish, and dirt from clogged carburetors and choke valves
Effectively cleans unpainted metal parts and is quick drying
More Information Brand Name GORILLA Model Number C1-06 Can Material Tinplate Can carburator cleaner Can Feature With Tubule carb choke cleaner QTY/CTN 24pcs CBM/CTN 414*272*208mm G.W./CTN 8.20kg QTY/20FT 29712 pcs QTY/40HQ 69672 pcs Selling Point 1 Super Cleansing Power Selling Point 2 Factory Price OEM Avialable
1.Will this product have a strong pungent smell?
Because this product is made up of strong solvents and oil formula, so it is normal to have a pungent odour. On the contrary, if this product is odourless, there may be problems.
2.What's the quality of your Carb & Choke Cleaner?
We have compared with other brands of the same product (oil pollution test). The jar of our product has reached the pressure standard and the internal pressure is in the safe range.
3.How often clean the carbon?
Recommended 3-5km clean the carburettor or choke.
4.What is the main function of this product?
This product is clean the carburettor choke, regulating valve without dismantling the car parts, soak quickly, loose and remove the carburettor automatic choke, PVC tap, ERG tap, orifice and another colloid, coke, grease in parts. Use the spray tape will remove the dirt more easily, catalyst the converter. Can not destroy the oxygen sensor plug, it also could solve Idle instability, hard to start the engine and etc. To achieve the aim of saving fuel, reducing emission, and maintaining.
5.What is the effect on the skin?
We suggest not to contact with the skin for a long time. In case of contact with eyes, please flush with a great of water and go to the hospital immediately.