Capacity: 200 ml
Item Number: C1-74
QTY/CTN: 24 PCS
Color: Colorless
State: Liquid Spray
Application: Car, Office, House, Toilet, etc.
Size: D50H165mm (D: diameter H: height)
THIS® Air Cleaner helps remove the odour-causing molecules in the first place, no dangerous chemicals, no sickly sweet scent left behind, just odour-free air to breath.To remove odours spray directly onto surfaces and into air to refresh and help break down unpleasant odours safely. 
Eliminate the smell, make the air fresh.
Rapid adsorption of smell molecules.
Eco-friendly and portable.
Find the odour source and clean up.
Shake well before using.
Spraying to the indoor space, eliminate the smell, make the air fresh.
Spray evenly in large space.
Keep the nozzle unobstructed after using.
Keep out of reach of children.
In case of contact with eyes, please flush with a great of water and go to the hospital immediately
Store in a cool and dry under 50℃ place, and avoid direct sunlight.
More Information

| | |
| --- | --- |
| Type | Air Fresheners |
| Air Freshener Use | Car, Home, Office, Toilet, etc |
| Shape | Spray |
| Feature | Eco-Friendly, Stocked |
| Place of Origin | Guangdong, China |
| Brand Name | THIS |
| Model Number | C1-74 |
| Capacity | 200ml Air Purifier |
| Packing | 24Pcs/Ctn |
| State | Liquid Spray Odor Eliminator |
| Can Material | Tinplate Can |
| Material | Eliminates All Odors Fast |
| Function | Long Lasting Odor Control Formula |
| Features | Reduce new odors over time |
| Characteristic | Eco-friendly/ Environmental |
1.DOES IT REMOVE CIGARETTE SMOKE? WITHOUT OUT THE ODOR RETURNING?
Absolutely!
2.IS THIS SAFE TO USE IN A CAR WITH LEATHER INTERIOR?
Yes.
3.WILL IT KILL MILDEW ORDERS?
Yes, this will remove any odors caused by mildew.
4.I HAD WATER LEAK AND DEALER PUT A NEW CARPET IN AND STILLS SMELLS LIKE MILDEW WILL THIS GET THE SMELL OUT?
Yes, this will remove any odors caused by mildew.
5.WILL THIS PRODUCT KILL ANY MOLD OR MILDEW THAT MAY HAVE FORMED DUE TO A LEAK OR WILL IT JUST MASK THE ODOR?
It will not kill or remove any mold or mildew, it will only attack the odors from it.
6.WILL THIS PRODUCT DAMAGE LEATHER SURFACES OR ELECTRONIC EQUIPMENT INSIDE OF THE CAR?
THIS Air Cleaner does not cause any damage to your leather or electrical equipment.
7.WILL IT COVER THE SMELL OF SPILT GASOLINE IN A VEHICLE?
Yes, it can, however, we advise that you absorb as much of the gasoline as possible first.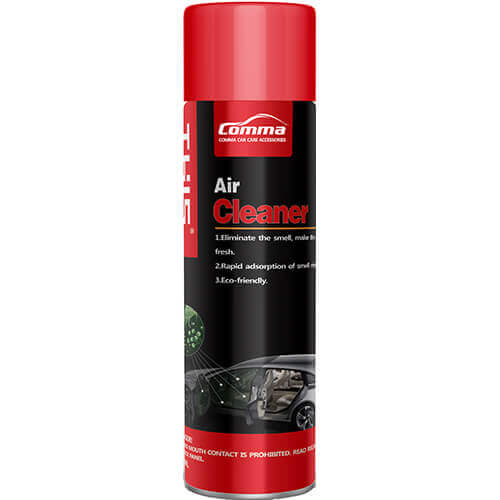 The email will be sent to our sales team. And we will not share your information with any 3rd parties.
Please send an email to [email protected] if you need further assistant.