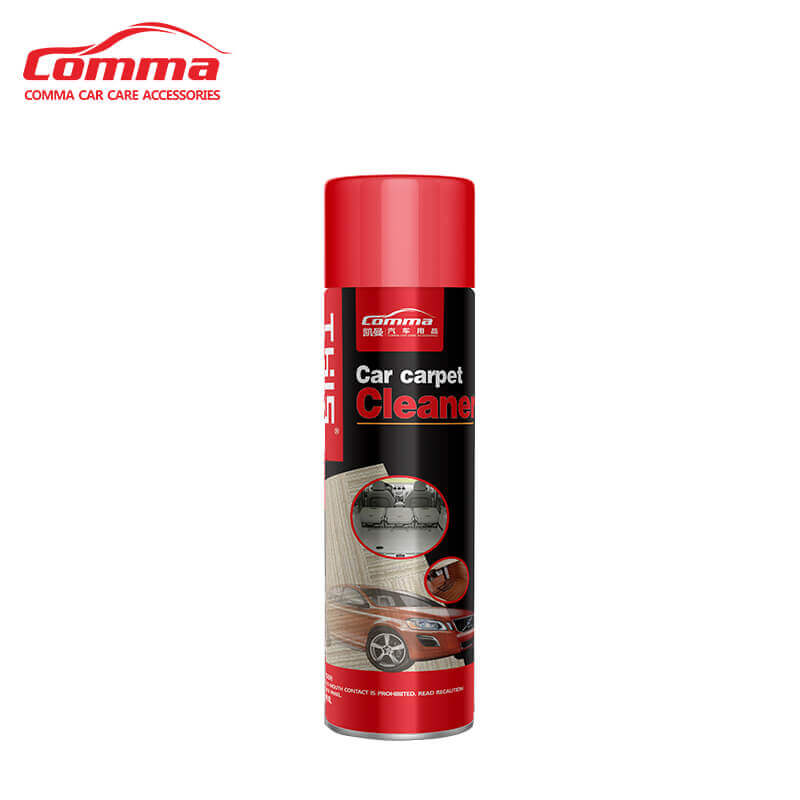 Bottle Size
62(D)  x  235 mm(H) (D: diameter, H: height)
Features
Professional-strength cleaning with deep cleaning power to remove staining and odors
Fast-acting foam quickly breaks down stains
Dries quickly without leaving behind a sticky residue
It is perfect for general cleaning or spot and stain removal
Penetrates and dissolves stains for deep cleaning leaving carpets and upholstery looking and smelling fresh, and feeling like-new
Application
Dispense: To loosen the ground-in dirt and odors, spray and let the foam deep into the carpet.
Brush: With the brush, work the foam into the carpet to lift the dirt and odor to the surface.
Let the carpet dry and vacuum away.
Attention
Q&A
1. CAN I CLEAN MY CLOTH TOP ( NOT CONVERTIBLE) WITH THIS?
Yes, it should be safe. Always test first on a small and inconspicuous area.
2. CAN I USE A WATER CARPET CLEANER VACUUM WITH THIS PRODUCT?
Yes, of course!
3. HOW DO YOU REMOVE THE FOAM AFTER YOU'VE SCRUBBED IT INTO THE CARPET? DO YOU JUST WIPE OFF WITH A DRY TOWEL? DOES IT LEAVE SOME RESIDUE ON THE CARPET?
You can wipe away with a cloth or vacuum off. It will not leave behind residue.
4.WOULD YOU RECOMMEND USING THIS FOR THE INTERIOR ROOF IN A VEHICLE? IF NOT WHAT WILL HAPPEN?
We do not recommend using it on the headliner. You can use our Foam Cleaner.
5. CAN USE THIS TO CLEAN MY SEAT BELT?
The Carpet Cleaner will be safe to use on your seat belt. Try to not get any of the products inside the buckle or to get the area that you're cleaning supersaturated.
6. CAN THIS PRODUCT BE USED ON WOOL CARPET?
We would not recommend using Carpet Cleaner on wool carpet. This product was specifically designed for use on automotive carpet and floor mats.