Powerful cleaner & polish-500ml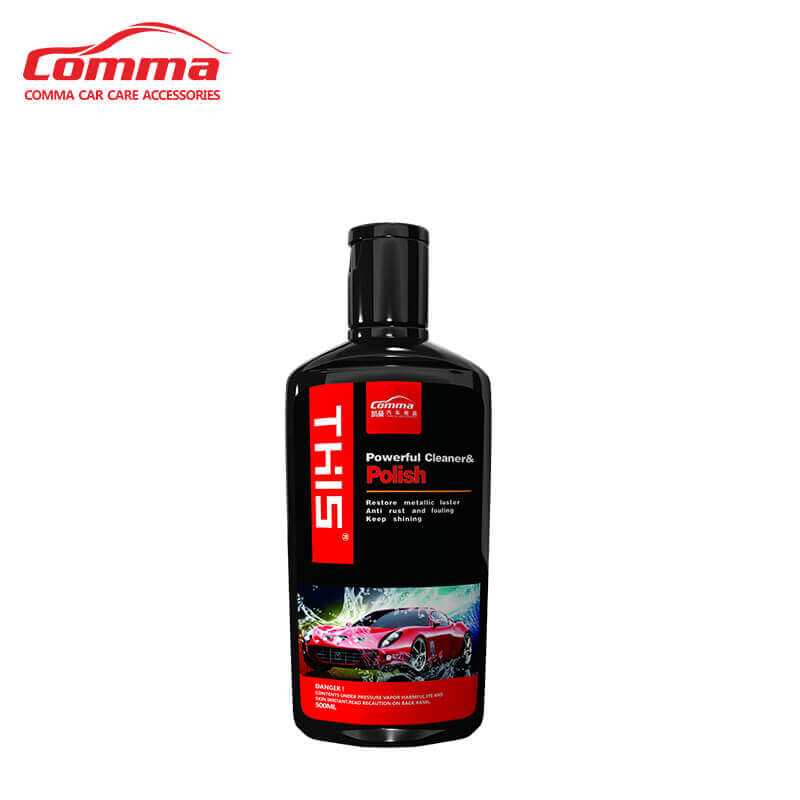 Bottle Size
80 mm (L) x 47 mm (W)  x 200 mm (H) (L: Length, W: Width, H: Height)
Why buy this product?
THIS® Powerful Cleaner & Polish is suitable for use on any finish, even clear coats, and it can produce a deep glossy shine. It is an ideal mix of an abrasive cleaner and a pure, rich polish. It also works to remove small defects, without marring the finish.
Features
Powerful Cleaner & Polish Wax is the quick and easy way to clean, shine and protect your paint.
Easily dissolves and removes stubborn road grime and dirt, all while boosting your existing wax.
Powerful, ultra-sudsy, biodegradable and pH balanced.
Safe for all finishes and leaves a brilliant, clean shine.
Application
Wash & dry car.
Apply on a cool clean surface, not in direct sunlight. Shake product well.
Pour onto a damp cloth or foam applicator and rub firmly to the problem area. Buff lightly with a microfiber or clean cotton cloth.
Attention
Keep out of reach of children.
EYE IRRITANT. In case of eye contact, rinse thoroughly with water for 15 minutes.
Do not expose to heat or store at temperatures above 50°C/ 122 F.
If irritation persists consult a physician.Use with adequate ventilation.
Avoid eye and prolonged skin contact.
Q&A
1. CAN THIS PRODUCT BE USED ON TRIM AND PLASTIC PARTS LIKE LIGHT?
Yes, no problem.
2. CAN I USE THIS TO MY WHITE CAR?
Of course, The color of the vehicle is irrelevant to what this product can do.
3. IS THIS OK USE ON A BRAND NEW CAR?
Yes, Of course.
4. CAN THIS BE APPLIED IN THE SUN?
It can be used in the sun. For the best result, it works better in the shade.
5. IT IS FLAMMABLE LIQUID?
No, it is stable.
6. HOW LONG WILL THIS WAX LAST?
About 6 months, depending on your driving condition.
7. DOES THIS LIQUID WAX HAVE ANY ODOR SMELL TO IT?
Yes but very little.
8. DOES THIS ATTRACT DIRT AND HAVE DUST AND DIRT STICK TO THE CAR?
This wax makes the surface shiny and slick. But there will always be dust in your car.