Protectant Shine & Protects
THIS® Protectant Shine & Protects creates a protective barrier that blocks damaging elements such as UV rays and oxidation. Its water-based formula also penetrates rubber and vinyl to condition and slow the aging process, working to prevent cracking, drying and discoloration.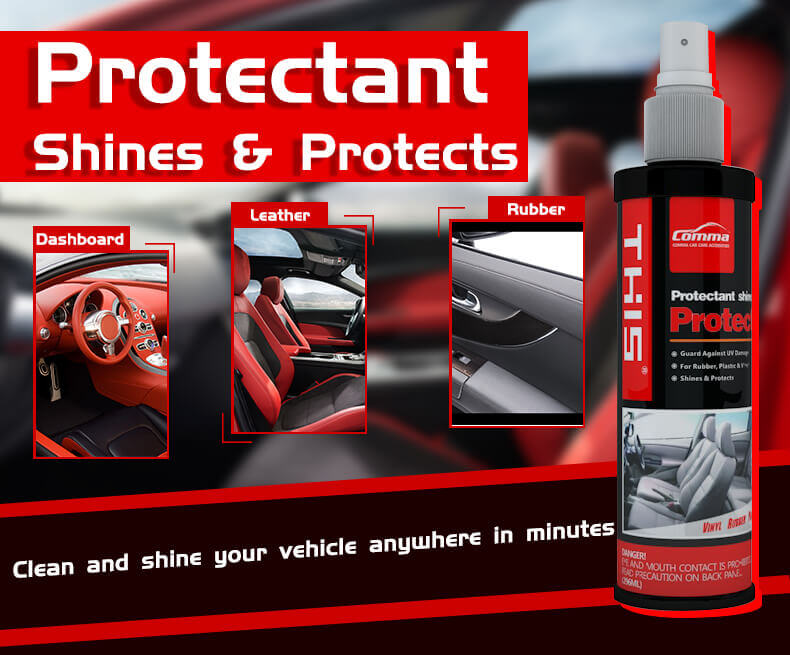 1-Step shine and protection, Adds a beautiful shine rich look
Cleans and prevents fading, cracking and drying on interior and exterior plastic, rubber and vinyl
Use for a deep, rich shine on dashboards, door panels, tires, trim and molding
Safely cleans away dirt, dust and debris
Provides UV protection
Clean, shine and protect your car's rubber, vinyl and plastic
Creates a protective barrier to block harmful elements such as UV radiation and oxidation
Penetrates to condition and slow the aging process
Provides a brilliant, non-greasy finish and a deep shine
Safely cleans away dirt, dust and debris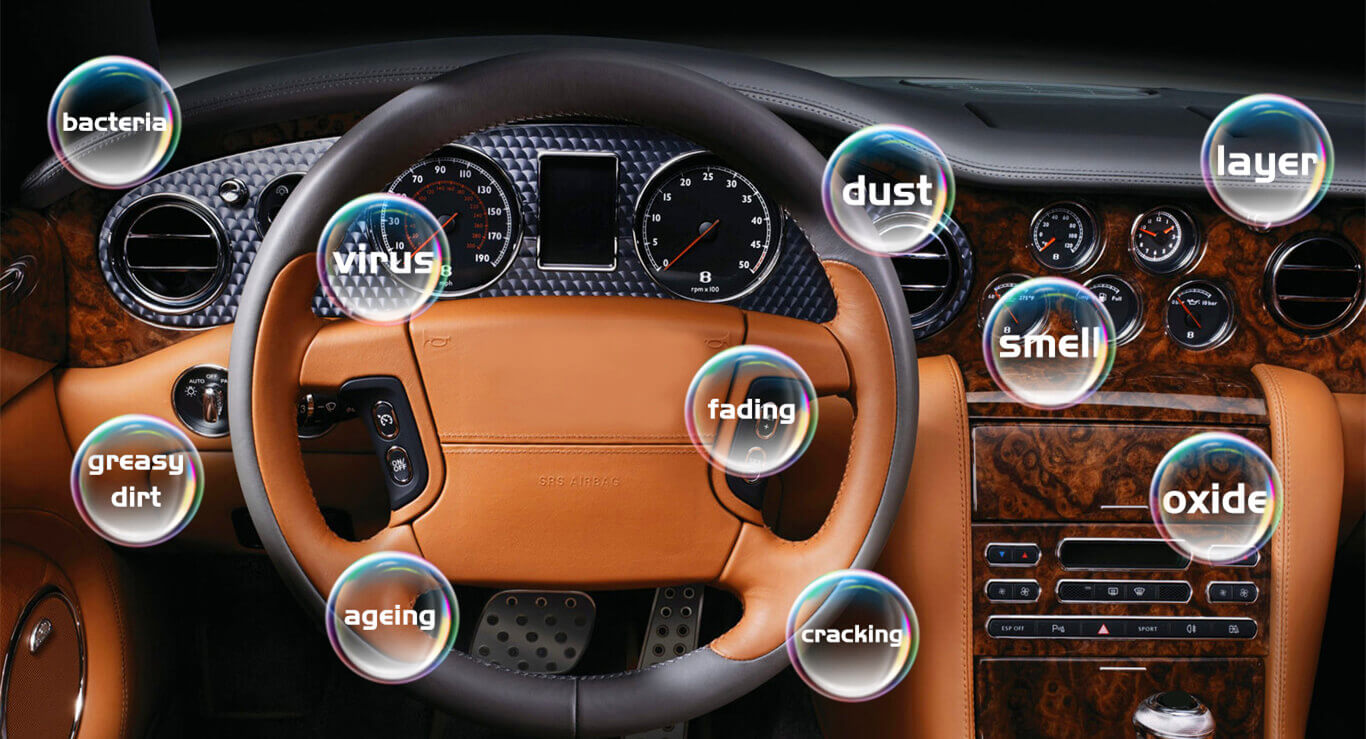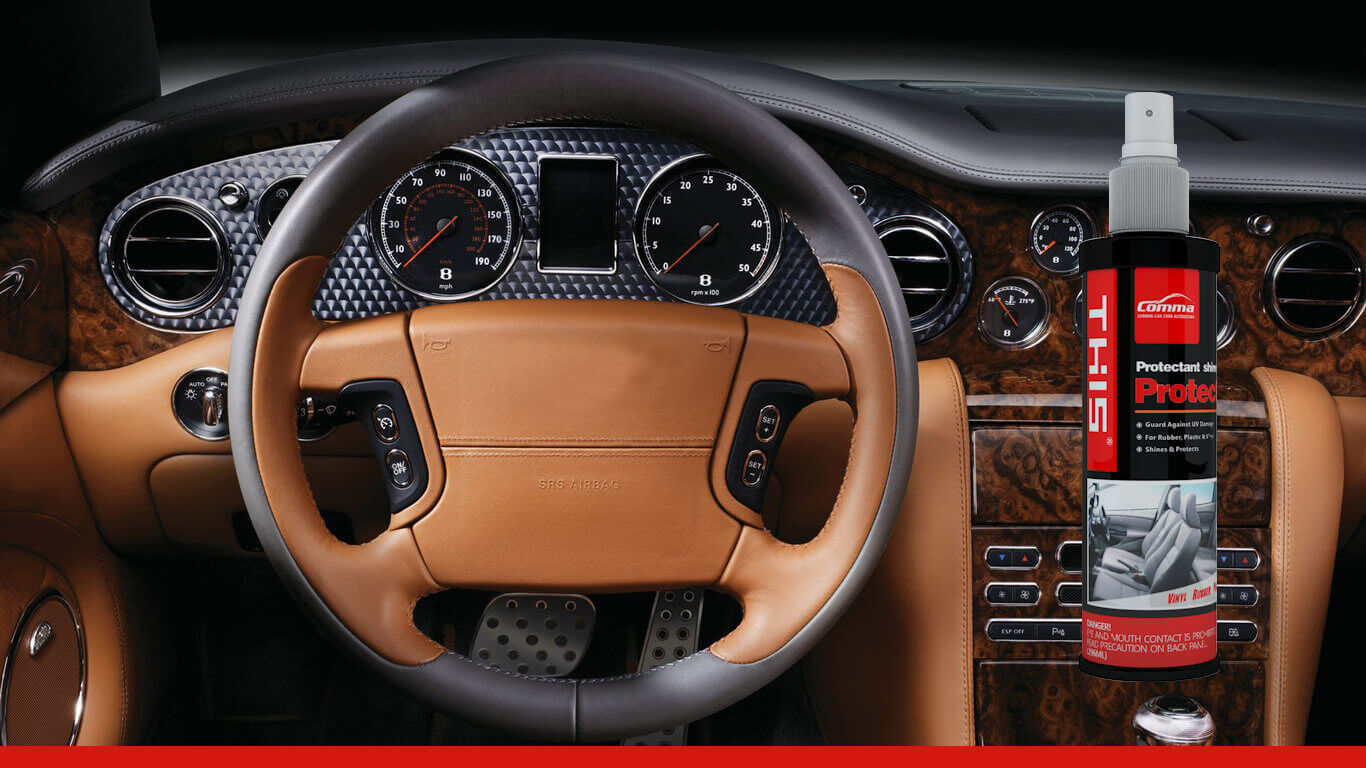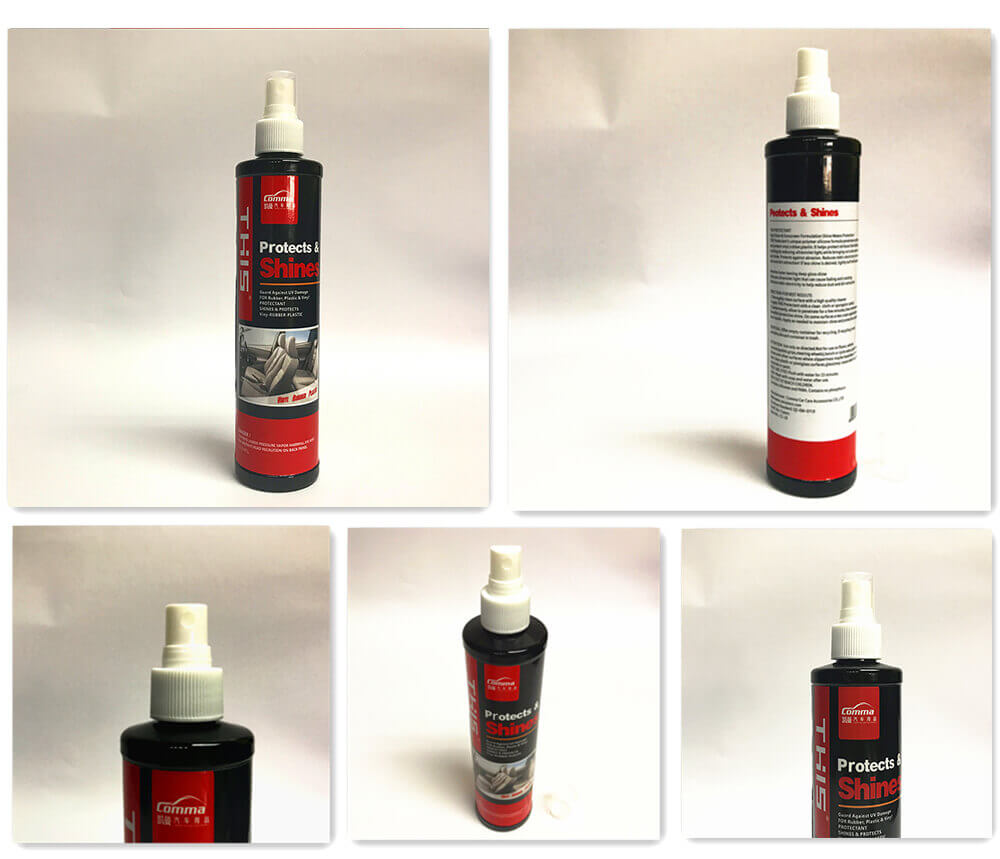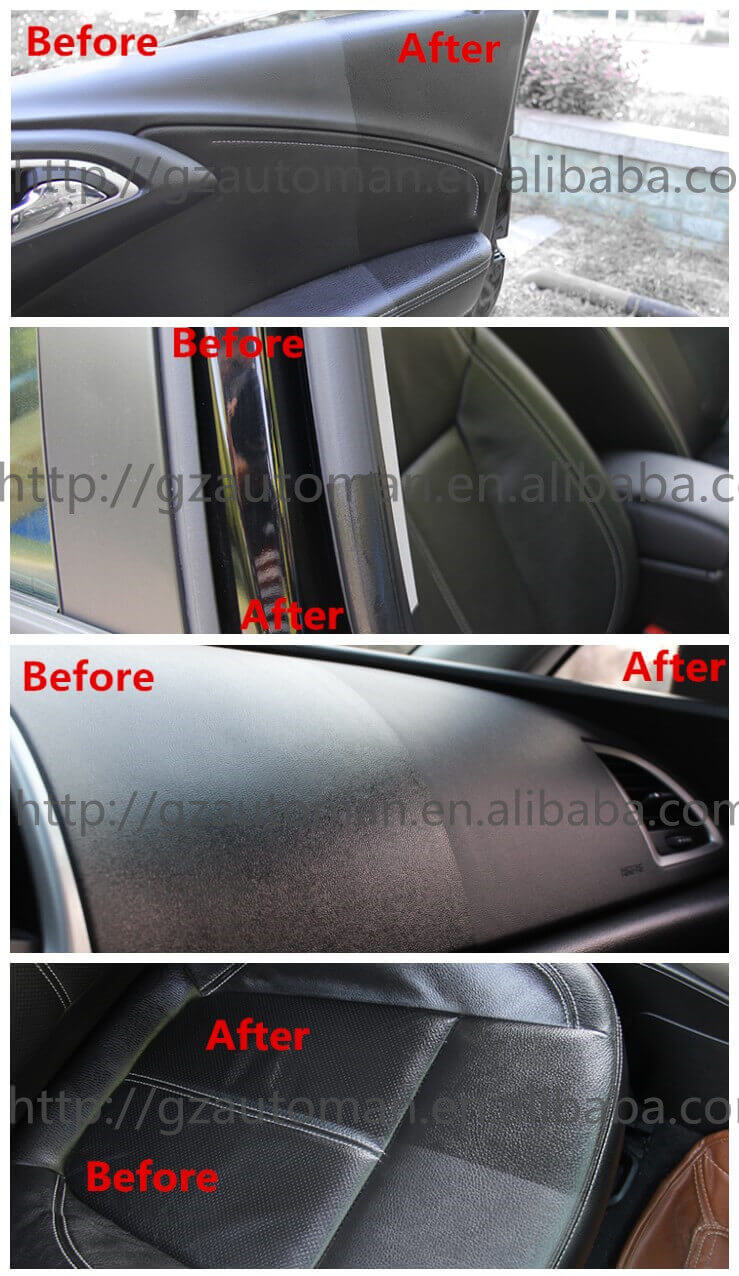 Shake well before use.
Apply liberally to 2 clean cloth and spread evenly, or spray onto surface.
Wipe off excess.
Apply as needed to maintain surface appearance and protection.
Keep away from children.
Use only as directed.
Not for use on floors, vehicle controls (pedals, grips, steering wheels), bench or cycle seats, cycle tires, brake drums and other surfaces where slipperiness may be hazardous.
Do not use on or near clear plastic surfaces, glass (may cause smearing), fabric, woven materials or paint.
Do not contact with skin for a long time.
In case of contact with eyes, please flush with a great of water and go to the hospital immediately
Store in a cool and dry under 50℃ place, and avoid direct sunlight.
Keep away from flame, spark and another kind of ignition.
More Information

| | |
| --- | --- |
| Brand Name | THIS |
| Model Number | C1-18 |
| Carton size | 21*16*24cm |
| Qty/CTN | 12pcs Protectant All |
| G.W. | 5.0kg |
| N.W. | 4.5kg Car Interior Cleaning |
| Content | 295ml Car Detailing |
| Other Specification | 118Ml(24pcs/ctn) |
| Features | Beautifies and protects vinyl, rubber and leather |
| State | Liquid |
| Application | Protectant all leather polish |
| Characteristic | Eco-friendly |
1.IS IT OK ON BLACK METAL WHEELS?
We do not suggest applying to the wheels, you can use THIS Wheel Cleaner.
2.IS THERE SILICONE IN INSIDE OUT PROTECTANT
Yes.
3.IS THERE ANY ALCOHOL IN THIS? I PLAN TO USE THIS ON MY NEW PVC INFLATABLE BOAT WHICH SAYS NOT TO USE ANYTHING WITH ALCOHOL.
It does not contain any alcohol.
4.USED ON OUTSIDE TRIM. HOW LONG DOES IT LAST?
It will last a few weeks, weather conditions may alter that time.
5.IS THIS PRODUCT PETROLEUM OR SILICONE BASED?
It is a silicone based product. It does not contain any petroleum.
6.CAN I USE THIS PRODUCT ON A HARD SHELL PIECE OF LUGGAGE BEFORE FIRST USE TO PROTECT IT FROM SCRATCHES AND STAINS?
This product will be safe to use on your Hard Shell Luggage to help protect it from dirt, cracking and fading. It may not, however, completely prevent any scratching from happening.
7.IS IT SAFE TO USE PROTECTANT ON PLASTIC SPOONS USED FOR FOOD IN THE KITCHEN? I HAVE A COUPLE THAT Is GETTING SEEDY LOOKING.
This product is not safe for the use of anything that will be ingested. We suggest to always stick to the product label and use our products on their designated surfaces.
8.CAN WE USE IT ON DUSTY SURFACE?
Yes, however, we suggest to spray the product and use one part of your towel to lift off the dust and then flip the towel (or use a new one), spray product again and buff into the surface.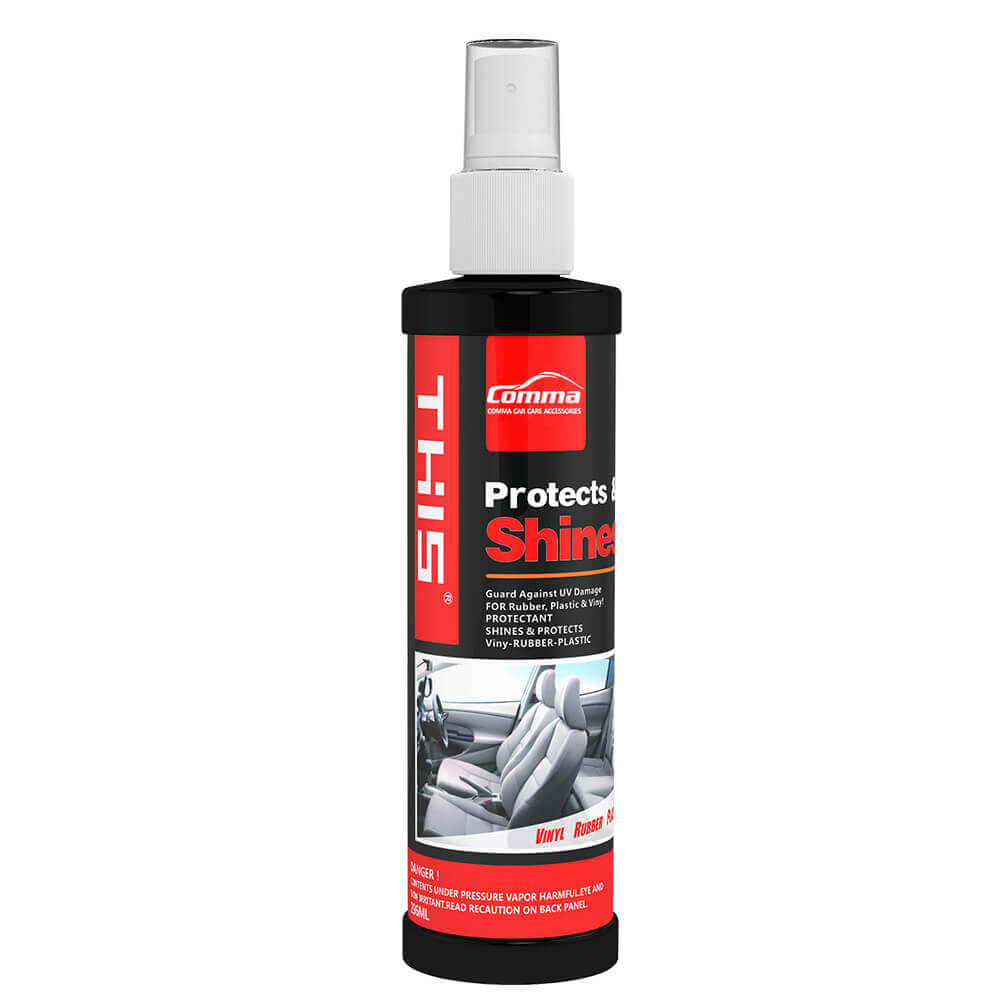 The email will be sent to our sales team. And we will not share your information with any 3rd parties.
Please send an email to [email protected] if you need further assistant.