THIS® Brake Cleaner is formulated to quickly and effectively remove grease, brake dust, brake fluids, oils and other contaminants from brake parts, lining and pads. Leaves no residue and helps eliminate disc brake squeal and chatter.
Extremely fast drying, Leaves no residue
Cleans and degreases brake linings, cylinders, drums, rotors, clutches, CV joints, etc
Formulated to quickly & effectively remove grease, brake dust, brake fluids, oils, & other contaminants from brake parts, lining, pads
High-pressure, flushing action cleans braking systems with ease
Multi-purpose formula removes dust, oil, tar and grease
Versatile cleaning properties allow use on most braking components
Thorough cleaning action helps eliminate squeal and chatter
Formula dries quickly and leaves no residue
Shake well and use this product in well-ventilated area.
Place a basin at the bottom of cleaning parts.
Insert the hose into the nozzle, spray the disc brakes and other brake parts surface at a distance of 30-40cm.
For special grease, spray over and over again.wipe the grease with a towel or a brush.
After finish cleaning,dry it with high pressure air. assemble after completely dry, if not completely dry, can cause temporary brake performance degradation.
At last,do braking test 2-3 times.
Keep away from children.
Do not contact with skin for a long time.
In case of contact with eyes, please flush with a great of water and go to the hospital immediately
Store in a cool and dry under 50℃ place, and avoid direct sunlight.
Keep away from flame, spark and another kind of ignition.
More Information

| | |
| --- | --- |
| Type | Cleaner & Wash |
| Place of Origin | Guangdong, China |
| Brand Name | THIS |
| Model Number | C1-41 |
| Weight | 450ml |
| Use | Car Brake System Cleaning |
| Expiration Date | 3 Years |
| Feature | Eco-friendly brake cleaner |
| Characterstic | High-pressure brake parts cleaner |
| State | Liquid coating brakekleen |
| Content | 450ml |
| Packing | 24pcs/ctn |
| General use | Clean brake parts |
| General size | 412*276*340mm |
| Raw material | Non-toxic |
| G.W/CTN | 8.2KG |
| N.W/CTN | 7.8KG |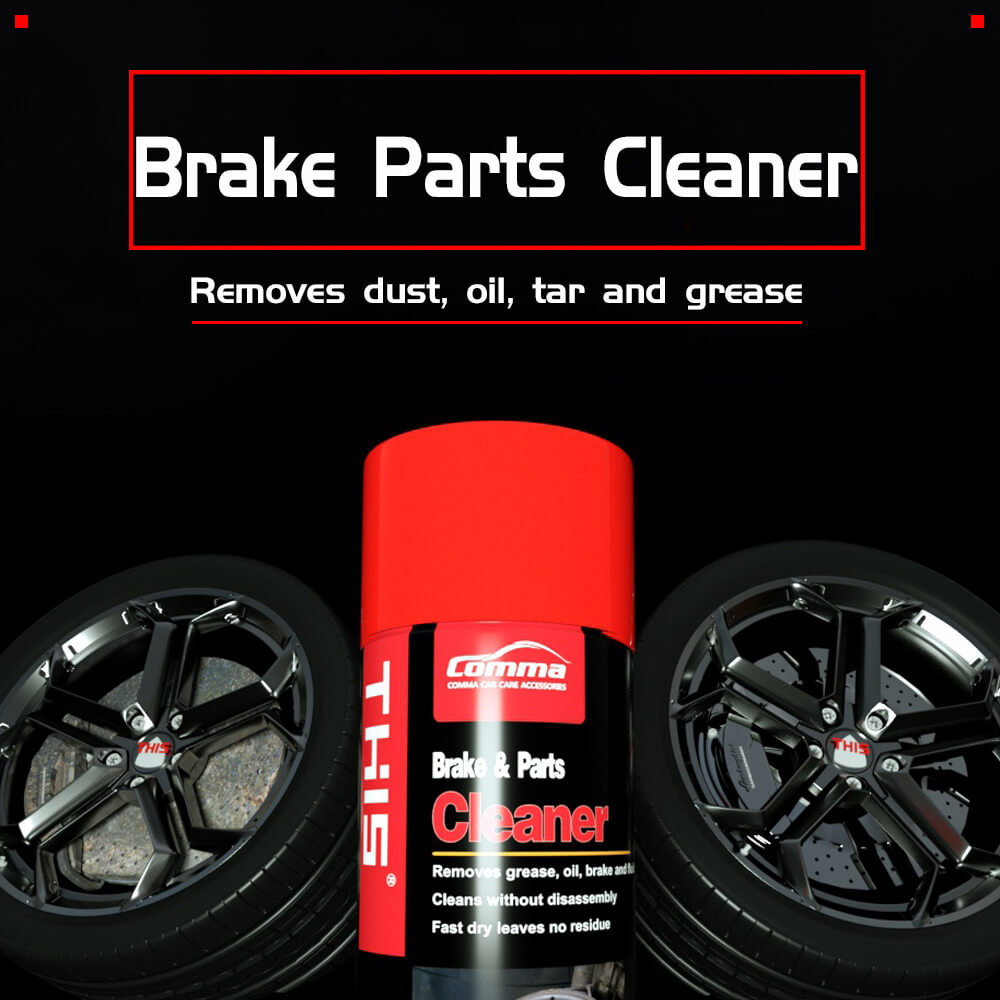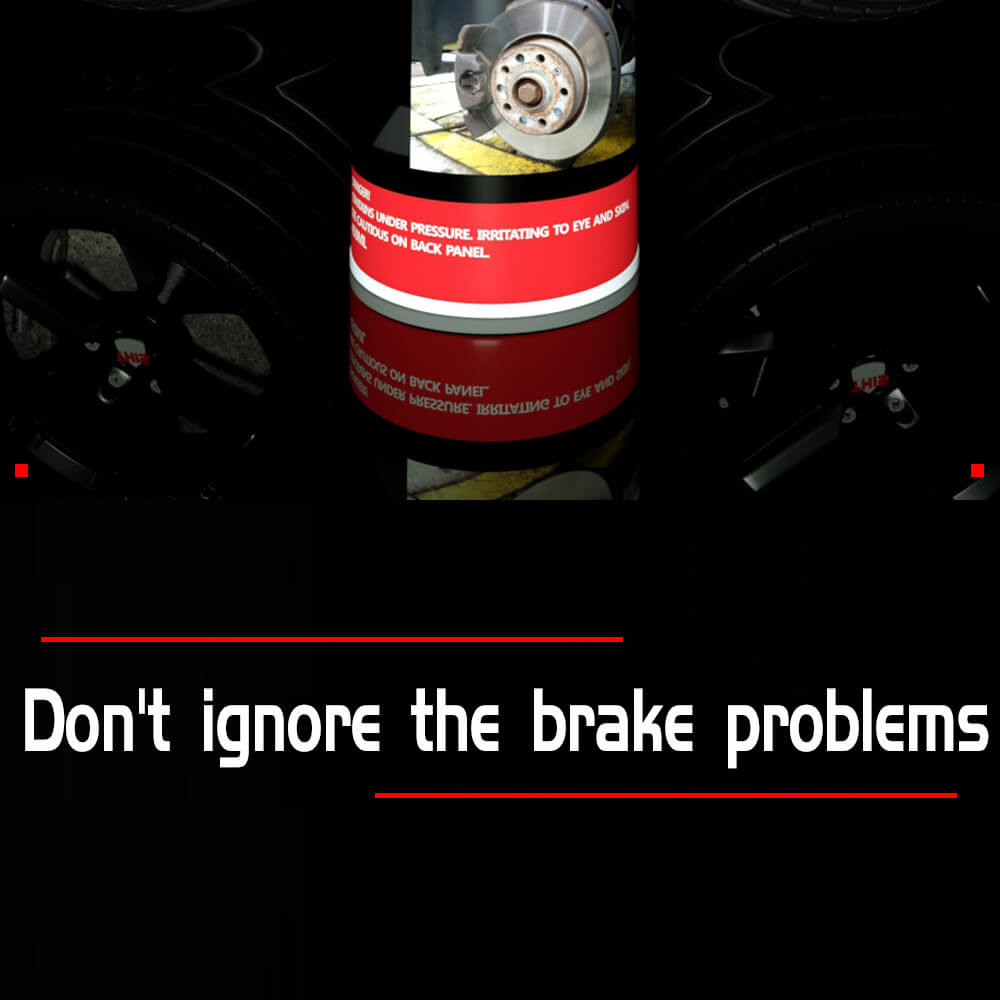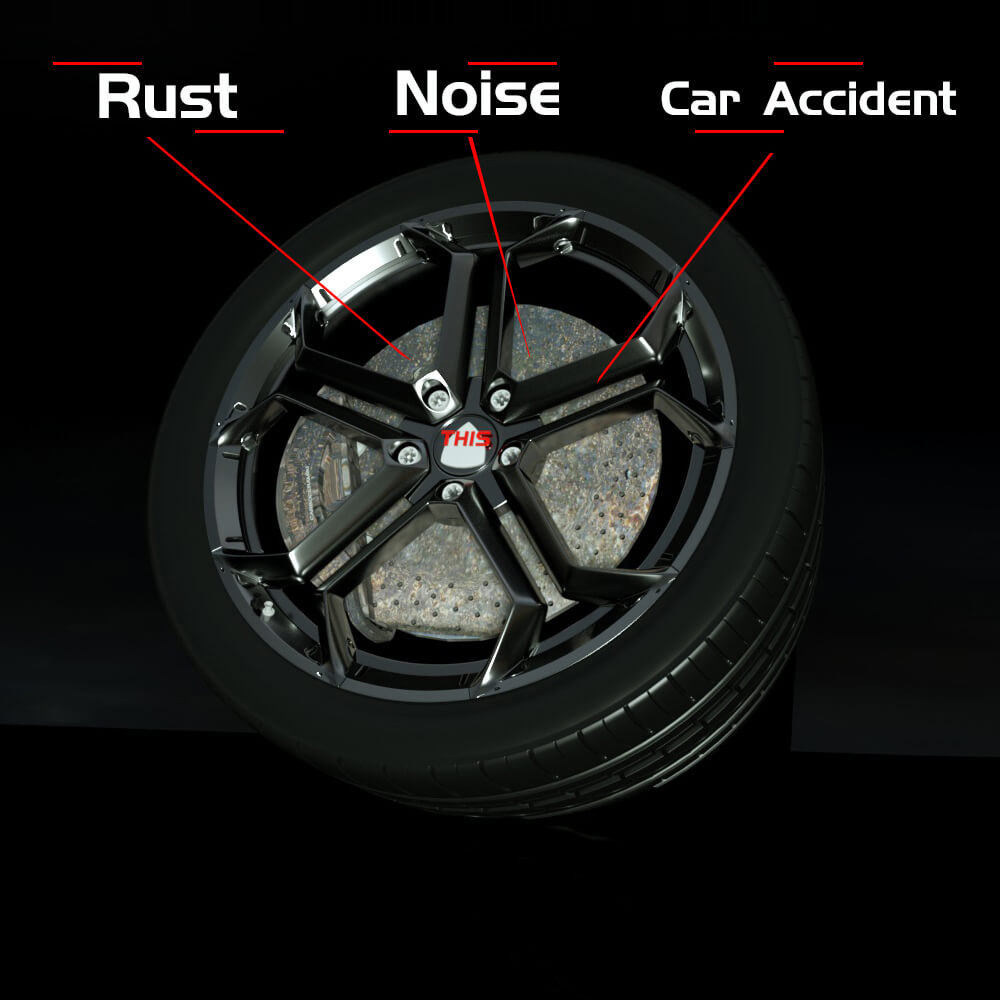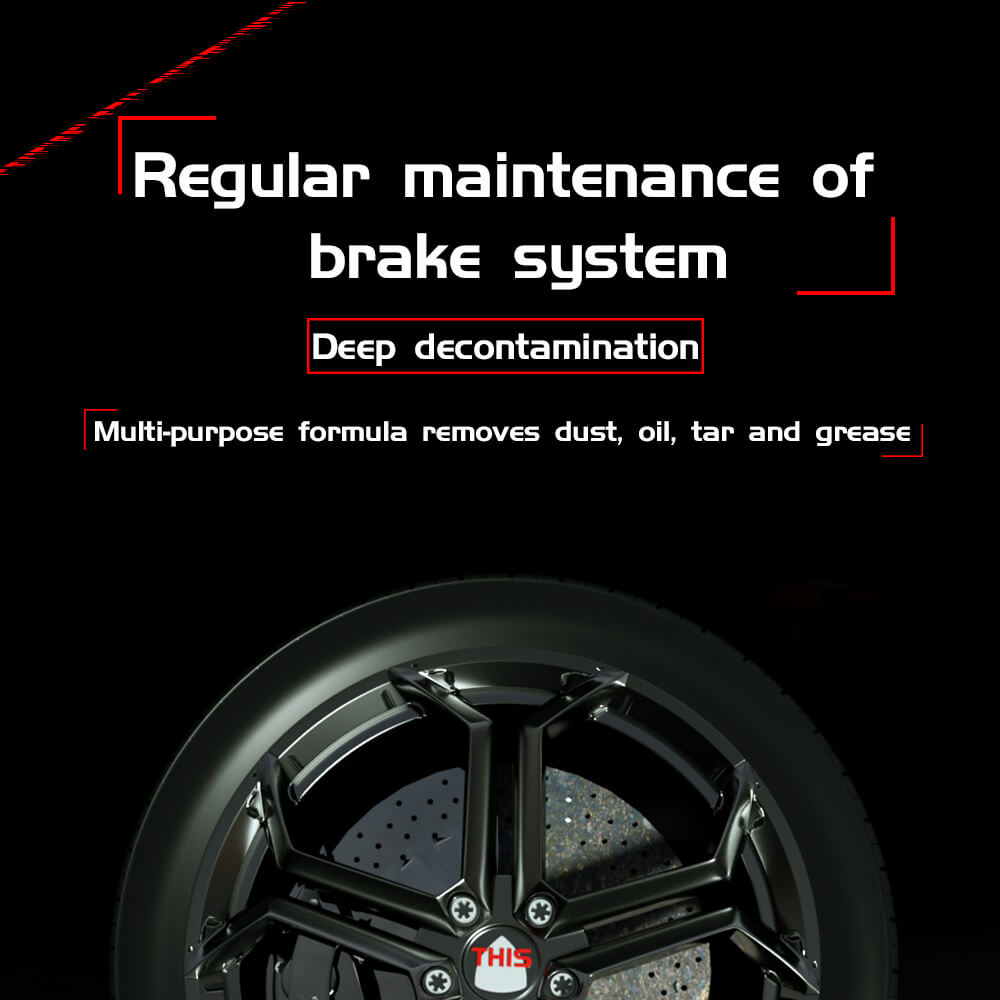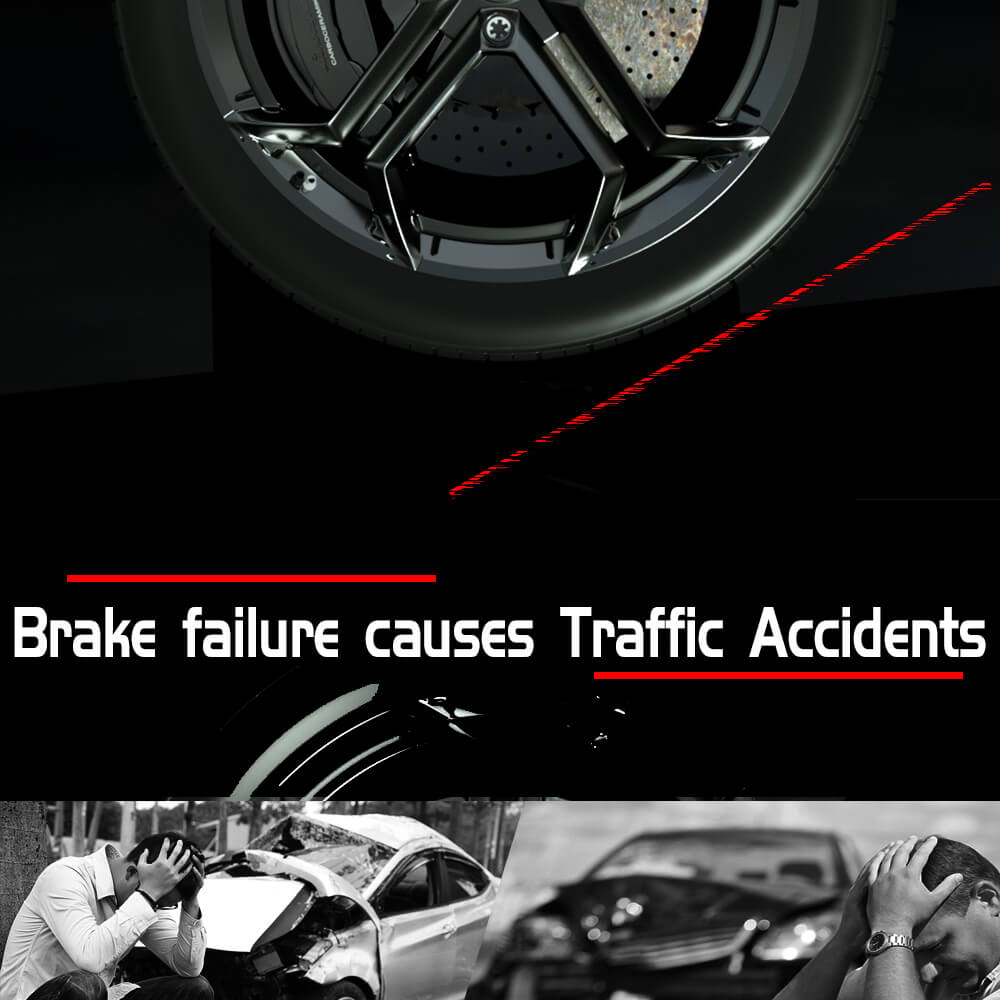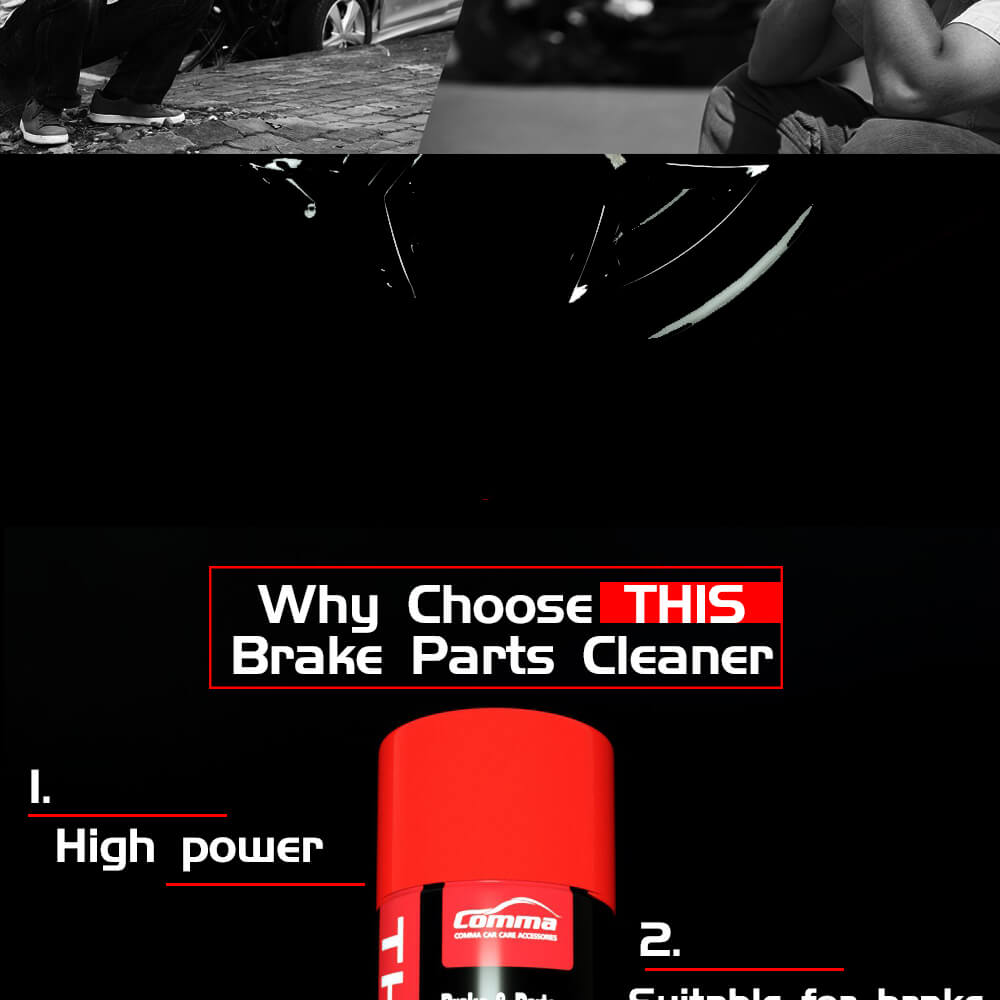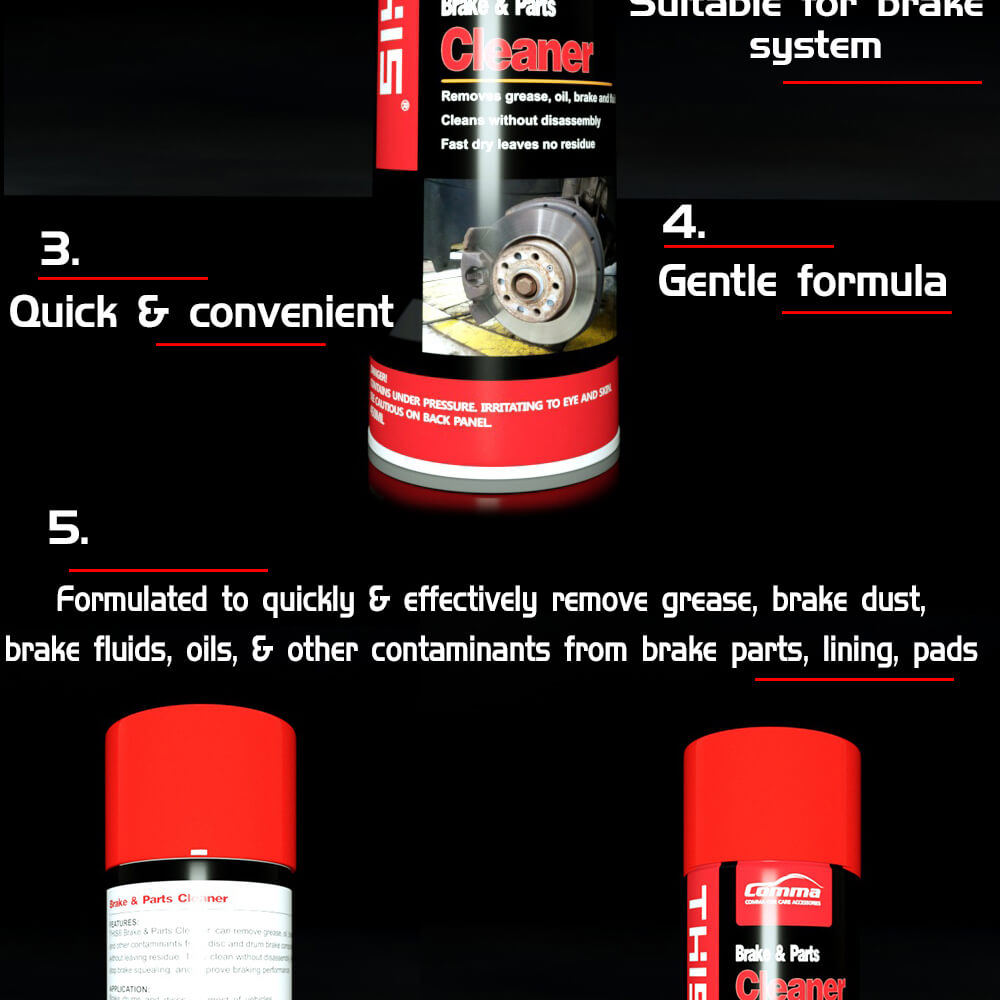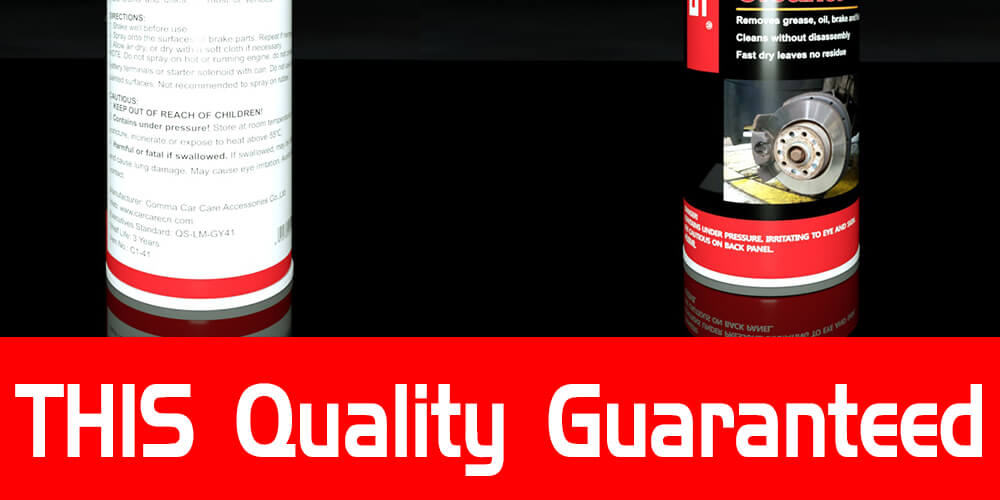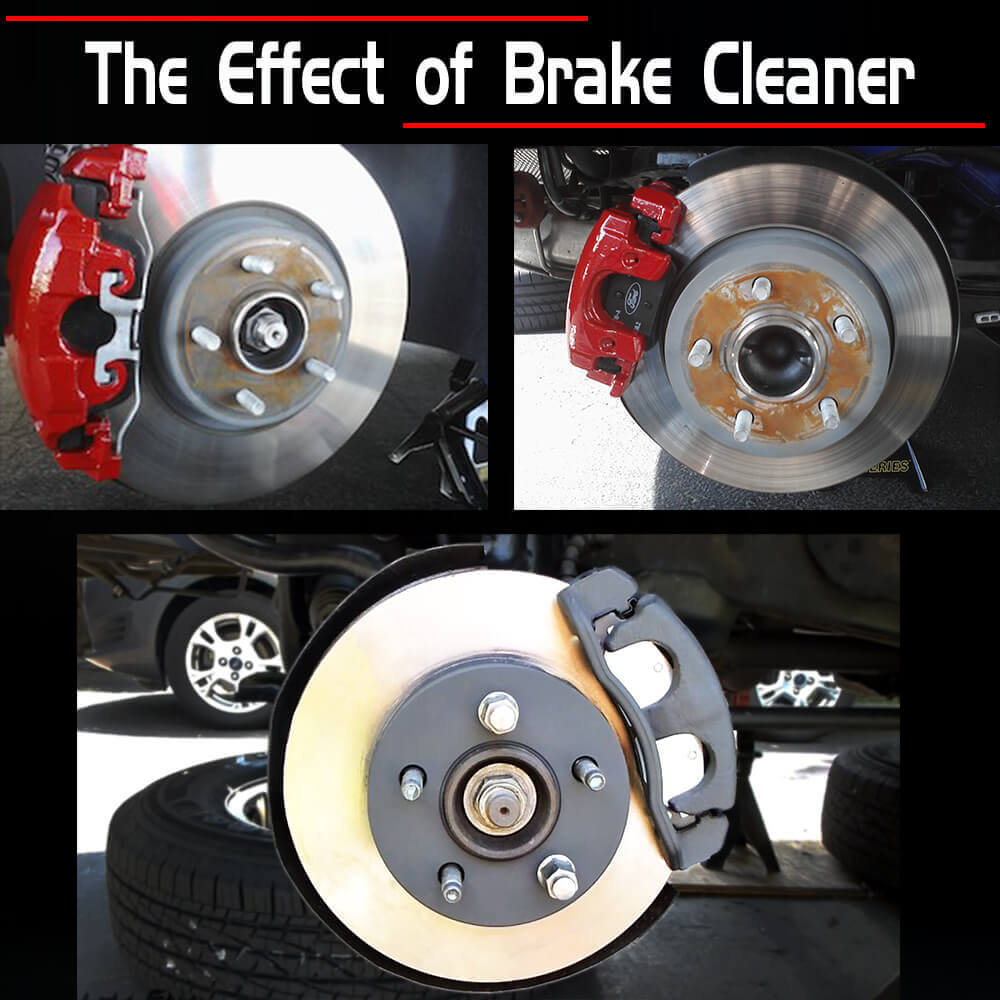 1.IS A FLAMMABLE AEROSOL SPRAY?
Yes. Please use outdoors. Personal protection measures are recommended. Contact with the eyes and the skin has to be avoided.
2.DOES THIS PRODUCT CLEAN RUST FROM DISC BRAKES?
No. This product is for removing oil, grease, brake fluid and other contaminates.
3.DOES THIS PRODUCT USED TO REMOVE OIL ON NEW ROTORS OR DISC BRAKE?
It's high pressure works great for removing debris and the consistency removes oil from disc brakes/rotors.
4.DOES THIS HELP STOP BRAKE NOISE AND CHATTER?
No it's only a cleaner when your replacing brakes or pads it won't control or help noise.
5.WILL THIS DAMAGE THE PAINT?
Would not spray on any paint, unless needed. Check a small area first to see what happens before doing so. Usually there is no paint on brake parts to be concerned with.